Transfers
Keagan Dolly's camp hits back at Mamelodi Sundowns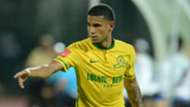 The South African Football Players Union (Safpu) and Siyavuma Sports Group (SSG) have released a joint statement responding to Saturday's statement that was released by Mamelodi Sundowns.
In the statement, the Brazilians slammed Keagan Dolly's agency, including his father Ramon, for misrepresenting the facts and lying to the public about certain issues.
Sundowns also released an email they received from City Football Group on the 25th of August 2016 where the midfielder was invited to their Academy. 
Safpu confirms that Dolly's agency was made aware of City's interest in Dolly, but reveals that both parties (Sundowns and Dolly) agreed that it wasn't a good offer, as the player wanted to move to a European country where getting a work permit would not have been an issue. 
This statement also confirms that Sundowns are sitting with an offer from a European club that well above the recently amended buyout clause.
According to media reports, French Ligue 1 side Montpellier, tabled an offer worth over R25 million for the services of the 23-year-old this week. 
Here is the statement in full:
This media statement from SAFPU and Siyavuma Sports Group is in response to a media statement that was sent out by Mamelodi Sundowns today [Saturday].
 
SAFPU and SSG in the last two days have been vocal in the media in reaction to Sundowns' media conference on Monday. During that conference, certain statements were made within it, and afterwards in a radio interview with Yogesh Singh on SABC radio.
 
Some of those statements that put forward were incorrect and not true, and on Keagan Dolly's request, SAFPU and Siyavuma took to the media to put forward their side of the story.
 
In particular, the reference of one mistake being made to Dolly's contract has been challenged by SAFPU and SSG by simply informing the media that, in actual fact, nine or ten changes in total were made before Dolly signed his new contract in August 2015, a contract which was signed by all parties.
 
Furthermore, the statements on radio in reference insinuations that certain people were present when Dolly signed his new contract, and that certain actions took place, were untrue.
 
Keagan's request was for the truth to be known. Subsequently, he has made his feelings known on this, and the whole matter, in private by way of email to his President, Mr. Motsepe, telling them how he sees his future at the club.
 
In relation to the Manchester City letter sent out by Sundowns - where he is clearly inviting Keagan to visit the club - this was discussed in full by Sundowns and Dolly's representatives in August. At the time SSG, with their reps in London, spoke to the Sporting Director of MC who had no knowledge of Keagan Dolly. Given other interest from top European clubs, it was also discussed with Sundowns that that was the route he wanted to take.
 
Dolly's reps, and the player himself, made it clear at the time that the preference was for Keagan was to go to Europe to a country where he can play without work permit issues, to a club without a trial, and to a club of his choice in relation to the one that had tabled a bid at that time.
 
There have been no lies or misrepresentation put forward by SSG or SAFPU, it is the responsibility of SSG, as Keagan's representatives, and SAFPU, as the players union of which Keagan is a member - to work on the player's instruction, and make sure that he is represented in the proper way.
 
There is no pressure being put on anybody, it just cannot be correct that Keagan's side of the story is not also made public after Mamelodi Sundowns decided to take it upon themselves to make their side public. This matter has been ongoing since August 2016, Dolly's performances have not changed or faltered, winning everything he can. 
There is at least one offer on the table from a European club that goes above the buyout as instructed by the DRC. That offer is not subject to appearances in order to reach the buyout amount, it is a guarantee of the buyout amount.
 
Both SAFPU and SSG feel a statement given out by MS today [Saturday], trying to attack people in a personal capacity, is poor. We reiterate that SAFPU and SSG will continue to protect and represent the player in the proper way, and will continue - if need be - to share his side of the story.
 
SAFPU and SSG, up until this last week, have tried to keep this situation out of the public domain. Unfortunately we have had to respond given Sundowns recent conference where false statements were made, and then enhanced by a radio interview on SABC. This response included the player's father, Ramon Dolly, who also felt - on behalf of the family – very strongly about the misrepresentations put forward by Sundowns.
 
Both SAFPU and SSG, for the sake of Keagan's career and for the good of South African football, hope that an amicable solution by all parties can be found, and that this matter will be put to bed. Hopefully Dolly is able to fly the SA flag high in Europe and realise his dream of playing there.