Karl-Heinz Riedle
Riedle calls for more Asian players to make the brave move to Europe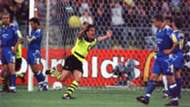 May 28 1997 was fondly remembered by Riedle as one of his finest day as a professional footballer. It was the day that his Borussia Dortmund side upset the apple cart and lifted the UEFA Champions League after a magnificent 3-1 over Juventus.
It has been 20 years since that fateful night in Munich, Germany but very few finals have managed to live up to the drama and quality that was on display at the Olympicstadion where Riedle became the nemesis of many Juventus fans.
A brace, scored in the space of just five minutes in the 29th and 34th minute sent Dortmund on their way but they were given a scare when Alessandro Del Piero came off the bench to pull one back in the 65th minute. The final would be decided by another substitute but this time from the Dortmund bench as Lars Ricken took just one minute to make an impact and scored the all-important third goal.
With many not giving Dortmund a ghost of a chance in the final, Riedle admitted that those sentiments became a motivating factor for himself and his team mates. After all, a team that consist of Matthias Sammer, Jurgen Kohler, Stefan Reuter, Paul Lambert, Paulo Sousa and Andreas Moller can't be all that bad.
"On all the betting stations all over the world, we didn't have too much chance. I remember Alex Ferguson saying that Borussia Dortmund have no chance at all and we could read all that leading up to the game. We knew that this is a big chance and everybody knew that anything can happen in football. We tried our best and we had a good day."
"In the beginning we struggled. We had a lot of respect for Juventus because they are a big team with big names. We somehow survived the first 20 minutes. Then I managed to score twice before Lars Ricken decided the game.
"In football you need some luck. Juventus on that day wasn't good enough to beat us because they had a lot of time to get back from 2-0 down. We defended well, everyone put in a massive effort and we got a win," Riedle told Goal in an exclusive interview.
Riedle was here in Malaysia as part of Dortmund's continuous activities in promoting the club and be closer to their Asian fans. He brought with him, the German Cup to Kuala Lumpur on top of a week-long football training camp for school children.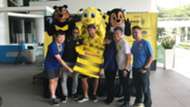 The Malaysian market is still very much dominated by the English Premier League but the German Bundesliga is not a million miles away as the advent of the internet gave many fans the avenue to get in touch and understand a different league like the Bundesliga.
"We are doing it now for three years and it works really well. The focus for Borussia Dortmund is to help us to gain a bigger fan base all over the world. Asians are very passionate about football and the fit between Dortmund and fans here is the perfect fit. It's important to be here and take advantage of that," added Riedle.
Football in Asia has come a long way since Riedle was last involved in competitive football. Back then, Asian teams would continually be cannon fodder for stronger teams from Europe as well as South America. But that gap has closed rapidly over the course of the last 10 years.
The likes of Japan's Hidetoshi Nakata blazed the trail in the 90's with his involvement in the Serie A while Park Ji-Sung took up the mantle with his time with Manchester United in the 2000s. Since then, there have been plenty of Asian players taking up the options to move abroad to improve their game.
In Germany itself, there are a whole host of Asian players currently plying their trade there - Mathew Leckie (Australia/Hertha Berlin), Takuma Asano (Japan/VFB Stuttgart), Makoto Hasebe (Japan/Eintracht Frankfurt) and Koo Ja-Cheol (South Korea/Augsburg) are among the more notable names who are there this season.
Riedle himself applauds the move any Asian player take towards that direction, indicating that playing abroad is a very important part of the learning process for these players so that they can progress to the next level.
"Asian teams have improved in the last years. I don't follow it too much to judge it well. But I can see that these players adapt well to playing in Europe. It's very important that these players are playing in top leagues where they are being challenged every week," said Riedle.
Karl-Heinz Riedle was in Kuala Lumpur, Malaysia as part of Borussia Dortmund's DFB-Pokal Cup Asian tour which also includes a week-long football training camp for the school children.