Cup
Kaizer Chiefs coach Steve Komphela wants to lift the Nedbank Cup for the supporters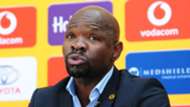 As they hope to break their cup hoodoo against Baroka FC , Kaizer Chiefs boss Steve Komphela says he is not looking for personal glory.
Chiefs will see this opportunity as a perfect one to rescue their trophyless campaign under Komphela, they will have to go all out to reach the semi-finals.
Their lukewarm performances in the Premier Soccer League will also put more pressure on them to win a trophy this term as the Soweto giants have failed to keep up with the title chasing top two in Mamelodi Sundowns and Orlando Pirates.
Amakhosi will meet the Bakgaga Ba Mphahlele on Saturday night in the Nedbank Cup Last Eight match at the Nelson Mandela Bay Stadium.
Despite his failure to lift a trophy with the club and in his final year on his three-year deal, the outspoken manager said they are professionals and will continue to carry out their duties.
"If you're looking at sympathy, you will always expect it, and you'll be living in pain; If you seek sympathy, you will forever be in pain because you expect some favour," stressed Komphela, regarding players' comments on winning the Nedbank Cup for him.
"At the back of expectation, if it doesn't come, is disappointment, and disappointment is painful. So no expectations. We carry on with our jobs. We're professionals, we have a responsibility to perform our duties," said Komphela.
"But it is pleasing that people you work with value a little bit of the interaction you have with them – the work that you share. There's a lot of stuff that people who work very close to one another share and get attached to," he continued.
"That then gives you more of a reinforcement, which then gives you energy to work even harder," he added.
The former Bafana Bafana interim coach said he is focused at Amakhosi and that he wishes they will go on and lift the Ke Yona trophy.
Komphela also revealed that he does not keep medals at his place because personal glory is not what he is after, but will dedicate the cup glory to the club and Amakhosi faithful.
"Personally, I don't want to lie to you, as a professional, I work IN football and I work FOR Chiefs. The first thing that has to come to my mind is that I work for Chiefs, but I work in football," he explained.
"So, you can feel comfortable that you're working in the football industry but currently focussed on Kaizer Chiefs," said the former Bafana skipper.
"I would love to see the players win it for our supporters and, God willing, if all that could be or when that [honour] happens, I don't think you'll come to my place and see a medal, or whatever, I throw those things away myself," he concluded.
The two clubs previously met in the same competition back in the 2010/11 season and the Limpopo side bagged a 2-1 win.
However, they have met four times in the league and they have one wins and as many draws apart and the Ke Yona tie will be staged at 20:15.