PKNS
Rajagobal returns to PKNS, jokes about signing Morata and Costa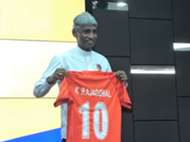 Super League side PKNS FC have announced the appointment of former Malaysia and Sarawak boss Datuk Rajagobal Krishnasamy as their head coach.
Rajagobal, who led Malaysia to their first AFF Cup title in 2010, has been handed a one-year contract at the Shah Alam-based side. His appointment was announced by the club in an unveiling ceremony held in Shah Alam on Wednesday.
He had been rumoured to take over at the club towards the end of the 2017 season, after he was observed attending their matches as well as internal events.
PKNS had employed two head coaches this season, beginning their first season back in the Super League with Elavarasan Elangowan who had been with them since 2015, before replacing him with German trainer Sven Gartung in July. But Gartung too did not last long, leaving after only two months. Assistant head coach Adam Abdullah then took over for the remainder of the season; guiding them towards safety from relegation.
When fielding questions by the media in the presser, the 61-year old coach expressed his gratitude at being given the chance to return to them. Rajagobal had begun his playing and professional coaching careers at the club, before moving on to more established sides.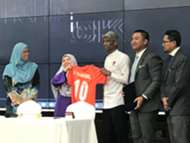 Rajagobal unveiled by PKNS. Photo by Ooi Kin Fai
"I agreed to return as this is where it all started for me. I started here as a staff of the parent company, as a player, I even got married while being in PKNS' employ.
"PKNS have contributed immensely to my career. I even live in a house that I bought from PKNS (the parent company). So I find this to be the right time for me to come back and return the favours to PKNS.
"They never thought twice when I wanted to join Selangor, Malaysia and coaching courses. They've been very generous towards me," revealed Rajagobal.
Now his aim is to restore the Red Ants' reputation, as well as to improve on their seventh-place finish in the 2017 Super League.
"We have to be realistic, this season we finished in the seventh place so yeah, I want to do better than that. We have to be confident to challenge the other teams.
"I want to make sure that PKNS are recognised and respected by other teams, so that matches against us are more than just brick-in-the-wall affairs.
"That's my expectation for PKNS. I will give all my passion, love and commitment as this is where I began my journey. The feeling is different, coming back here I feel like I'm the 21-year old who just started his job at PKNS. I'm really excited to return, and I have to thank the president and management for believing in me," he explained.
When asked for his plans for the 2018 season, Rajagobal remarked that he has identified the local players he is interested in, while foreign players will be required to attend a trial.
"We have listed the local players we are interested in, while foreign players will be signed after a trial.
"I will discuss the selection with my coaches, for example on matters of suitability and budget. Maybe we have the budget to sign the likes of Diego Costa or Morata. If there is sufficient sponsorship, maybe I'll get in touch with Chelsea!" jokes Rajagobal.