UEFA Champions League
Juventus are not PSG - why another Barcelona remontada will be much more difficult this time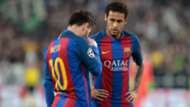 ---
COMMENT
---
Lightning, it is often said, does not strike twice. And although Barcelona hope to produce a second successive sensational comeback in the Champions League on Wednesday night, it is likely to be much more difficult this time around. Because Juventus are not PSG.
Juve must play to win - Allegri
The French champions thrashed Luis Enrique's side 4-0 at the Parc des Princes in the last 16 and at that point, a turnaround in the second leg looked highly improbable. However, with several weeks to prepare for the return at Camp Nou, confidence grew and in the end, the Catalans prevailed with an astonishing 6-1 win.
There were other factors, too. Barca changed formation after the first defeat and used subsequent matches to perfect the 3-4-3 system. And on top of that, even PSG defender Thomas Meunier later admitted that "we knew we were going to lose" in the second leg.
From the very first whistle, PSG's approach was cowardly and that played into Barca's hands. And it is why Juventus boss Massimiliano Allegri urged his side to take a different route when he spoke in the pre-match press conference on Tuesday. "The most important thing is that we forget the three goals in the first leg and play to win again," he said.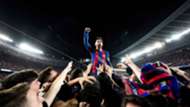 That is a good attitude to take to the second leg and differs greatly from PSG's Unai Emery, whose teams have always feared playing at Camp Nou. In the end, it was that fear that gave Barca a way back into the tie.
Offside Ronaldo leaves Pique speechless
Because Barca always appeared capable of a big win against PSG at Camp Nou, even if the French champions scored a goal. And that was exactly what happened. Against Juventus, however, the Catalans face an altogether tougher task.
"If we score the first goal, the Camp Nou will score the second and the third will come all by itself," Luis Enrique said in the pre-match press conference on Tuesday.
And Andres Iniesta added: "There are similarities in terms of the need to score goals and concede few options to the opposing team. That has to be the mentality and the mission, because the sooner goals are scored, the better."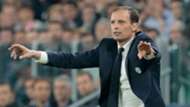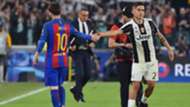 Those quotes are in contrast to the post-match remarks made by both the player and his coach, when Iniesta said a comeback may be "impossible" and Luis Enrique admitting he was "finding it harder to be optimistic" this time around.
Obviously morale has picked up since the loss last Tuesday, though, and at a packed Camp Nou on Wednesday night, anything is possible for the Catalan club.
Barca always believed in PSG comeback - Luis Enrique
Scoring against Juve will be a difficult proposition, however, with Allegri's side having conceded only twice in the entire competition so far. And at the other end, their attack - featuring first-leg hero Paulo Dybala, who is fit again - can cause serious problems for a Barca team that has shipped seven goals in the past three matches.
So while another historic turnaround cannot be ruled out, it is going to be much tougher for Barca to produce another remarkable remontada on Wednesday night.