United States
Juan Agudelo: Bruce Arena surprised me with how professional he was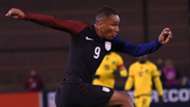 New England Revolution striker Juan Agudelo acknowledges he was surprised by how professional U.S. national team coach Bruce Arena was during the January camp.
The 24-year-old attacker received his first U.S. cap over six years ago. While he played five games in the 2011 CONCACAF Gold Cup, he's remained on the fringe of the national team conversation ever since.
MLS Preview: Revolution hoping to build off 2016 lessons
But Agudelo's club situation has improved, as he's scored 14 times for the Revolution over the past two seasons. After returning from a knee injury in 2016, he bagged four of his seven league goals in the last seven games of the season. He added another two in the U.S. Open Cup final, though New England fell 4-2 against FC Dallas.
Agudelo earned a look from Jurgen Klinsmann in the USA's October friendlies, and was rewarded for his strong finish with a January camp call-up by new national team boss Arena. Agudelo played in friendlies against Serbia and Jamaica, and while he suffered a minor facial injury against Jamaica, it still was his first national team start since 2015 — and only his second since 2011.
"I thought it went really well. I got some really positive feedback," Agudelo told Goal. "I showed I'm a hardworking forward with technical ability, from what they said. They're definitely going keep an eye on me to become a part of the national team for more than just the January camp."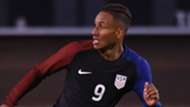 Agudelo came out of the camp very impressed with Arena, whom he faced plenty of times in MLS but had never played under before.
"He's very a good coach that is going to put the players he feels are capable of doing the job he wants (done) on the field," Agudelo said. "He surprised me with how well of a coach he was professionally.
"The way he speaks, the way he talks to the players. It was more like, 'You respect and you understand.' It's clear what's expected of you from the coaching staff on what you have to do to be playing or a part of the national team."
Coming into 2017, Agudelo knows he needs to build off his strong finish to last year's campaign. If he can't work his way into the squad for March's qualifiers, there's the Gold Cup, which Agudelo called "huge too."
MLS Preview: New England Revolution
But even though he's a striker, it's not just about scoring goals. Agudelo wants to show Arena he can contribute in all facets of the game.
"Keep working hard club-wise," he said when asked what he can do to get himself called in. "Definitely be a guy who stands out with my club, whether it's with assists, whether it's with hard defensive work, creating chances and scoring goals. Whatever (is necessary) over the next coming games."