United States
Villafana makes most of U.S. minutes but heading back to bench in Liga MX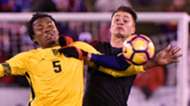 Timing is everything. Jorge Villafana knows that better than most in North American soccer.
The California native has gotten his timing so right during much of his career. His uncle dragged him to a try-out that he wasn't registered for when he was a teenager, only for the timing to work out for him to be able to get in as one of the last participants. That eventually led to him winning the Sueno MLS competition and earning a spot on an MLS roster.
Morris and Zimmerman shine in USA win over Jamaica
The timing was right again when Villafana lifted the MLS Cup with the Portland Timbers in 2015. Though it meant missing out on the chance to go to January camp, Santos Laguna had come calling and he was off to Liga MX, North America's top league.
Now, the timing is not right.
Villafana started for the United States for the first time in the Americans' 1-0 victory over Jamaica, and he showed what we knew all along: that he's an above-average left back, especially in a pool as shallow as the USA's always has been at the position. Yet, when Villafana was playing for Santos Laguna during the team's Clausura campaign, he was hoping for a call-up that never came from then-coach Jurgen Klinsmann. New coach Bruce Arena brought the 27-year-old into this January's camp, and Villafana debuted Sunday in a scoreless draw against Serbia.
"I was surprised, but everything comes at the right moment," Villafana said when asked earlier this week about the lack of calls from Klinsmann. "I've been waiting and working hard and right now with the new coach who got the job I knew that I might get an opportunity and I did. I'm really happy that I'm here and try to take it day by day and enjoy the moment."
But the very fact that Villafana was in Chattanooga, Tennessee, instead of sitting in Guadalajara, Mexico, with his Santos teammates indicates that it might not be the best moment for Villafana. While this year has brought national team minutes for the first time, Villafana is awaiting his first Liga MX minutes of the season despite the tournament entering its fifth round this weekend.
Villafana doesn't look to figure in Santos coach Chepo de la Torre's plans. Fellow American Ventura Alvarado also is having trouble breaking into the squad, but at least the coach is keeping him around for league games. Villafana has thus far been relegated to Copa MX contests.
It's difficult to see Villafana winning back his starting left back spot with Santos currently undefeated and de la Torre favoring young homegrown fullbacks Gerardo Arteaga and Jorge Sanchez. For Villafana, though, that's all the more reason to work not only at proving himself worthy of time with Santos but also of more calls from Arena, whether or not he's able to get onto in the squad for his club team's biggest matches.
"You always try to work hard, even if you're not playing, you keep working hard, training hard. You have to be ready for every opportunity that comes your way," the defender said. "I think this call for the national team is going to help, even if it's not now, for the future."
Arena dismisses rift with Cameron
The future now is a murky one, one that is unlikely to see Villafana unseat Fabian Johnson at left back or even move past MLS left backs like Greg Garza who look to be ahead of him on the depth chart. Villafana, however, has learned to work hard and wait for his opportunities.
He knows that things change quickly in soccer, that one day soon the timing may again be right.