PSL
Jonevret: Orlando Pirates are on the same level with Kaizer Chiefs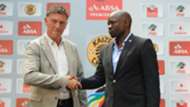 Orlando Pirates head coach Kjell Jonevret strongly believes that his team is making huge progress despite third successive draw at home to SuperSport United on Tuesday night. 
Jonevret is still searching for his first win since arriving at the Parktown-based club, but he feels it's just a matter of time before they start winning games again. 
The draw against Matsatsantsa saw Pirates extend their winless run to 11 matches in the league; their worst run in the PSL era. 
"I'm happy that we managed to come back three times in three games. I think that's a big positive for us for the future," Jonevret told the media. 
"I think performances in the last two games have shown that we're on the same level as the top teams like Chiefs and SuperSport," he said. 
The 54-year-old mentor admits that coaching in the PSL is still a learning curve for him. He added that they hardly trained after the Soweto Derby match against Kaizer Chiefs last weekend. 
"I'm learning, I'm still new here, but i think the Soweto Derby took a lot out of the players and you could see that," he continued. 
"We didn't do too much training after the Derby. We just had a few meetings and other things because there was no energy. I think both teams were flat but maybe a Derby against Chiefs takes more energy than a home game with Ajax," he added. 
Jonevret said he was tempted to make changes to the team that drew 1-1 away to Chiefs, but said he wanted to repay the majority of the players for their good performances in the Soweto Derby. 
"Maybe I should have changed a few players, but i wanted to give them reward for the good performance against Chiefs," said Jonevret.
Jonevret added: "I'm looking forward to the future because even though we didn't play at same level today, we are getting closer, with little luck we'll win." 
"When I arrived I said we must take it step by step. Two draws against two top teams like Chiefs and SuperSport United is good," said the Bucs' coach.
"If we continue like this, we are going to win games. We've played very well, especially in the Derby - that was a football party," added Jonevret.
Meanwhile, Stuart Baxter believes SuperSport United were let down by their poor finishing on the night, but he felt some of the decisions went against his team.  
"I didn't think the first half was too bad. Both sides made elementary mistakes though. With more composure, we could have gotten a result," Baxter told reporters. 
"We came to Orlando to face a resurgent and buoyant Bucs. We took the sting a bit tonight. I'll take this draw over the Ajax one," he said. 
"I've seen the penalty, I've seen the goal that was disallowed. I'm not being emotional, I've seen the replays. It's a penalty," Baxter continued.
Baxter added: "I'm not finding fault in Vic (Victor Hlungwani) but he made a mistake, because if that's not a penalty then Brockie deserved a yellow card."
"The referees do their best, I'm not going to slate them. It's up to you to decide if their best was good enough. I have my opinion," said the former Amakhosi coach.