Mexico
Jonathan dos Santos cherishes World Cup debut but wanted more out of Russia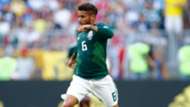 Jonathan dos Santos says it was difficult to wait for his World Cup debut, though it was a wonderful moment when it arrived in Mexico's round of 16 match against Brazil.
Dos Santos was a late cut from Javier Aguirre's 2010 squad and suffered an injury late in 2013 to rule him out of the 2014 team led by Miguel Herrera. While he was a lock for Juan Carlos Osorio's squad for Russia, he had to wait for the knockout rounds to see his first minutes.
"It was tough to take because a player likes to play and enjoy football," he said Wednesday after featuring in the MLS All-Star Game. "Those are the decisions that get made, though. The manager tries to put out the best XI and I was training at 100 percent at all times to get this opportunity. The opportunity came, but we weren't able to get to the fifth game."
It was the seventh consecutive time El Tri's run has come to an end before the quarterfinals, extending an unwanted streak that has dogged Mexico for years. Dos Santos watched on as Mexico beat Germany 1-0 in its opening match of the tournament and then got past Korea 2-1 in the second game. He wasn't called upon in the final group match against Sweden either, a game in which Mexico collapsed and lost 3-0. In the knockout stage against Brazil, Osorio elected to gamble with veteran Rafa Marquez in the middle instead of handing the LA Galaxy midfielder a start.
It didn't pay off, and Dos Santos ended up coming on just after Neymar opened the scoring in an eventual 2-0 Brazil victory. The 28-year-old said, after playing just 35 minutes in this tournament, he's hungry to continue playing at a high level and to get back to the sport's biggest stage.
"I didn't play many minutes. I was hoping to play more, but at the end of the day it was a beautiful experience," Dos Santos said. "It was my first World Cup and I'm happy to have been with great teammates with a great manager and I hope to play in another World Cup with more participation."
Osorio rejected the Mexican federation's attempts to convince him to stay on for another cycle, leaving the position vacant. A clubhouse leader for the next person to take the job has yet to emerge, with current Club America manager Miguel "El Piojo" Herrera and former Chivas boss Matias Almeyda among the potential candidates. For Dos Santos, the job needs to go to a talented manager who will approach the job with passion, whether he be from the country or from abroad.
"I don't know if it'll be a Mexican or not, but I hope he feels the colors and loves Mexico," he said. "I think there are really good candidates. You hear about Piojo, Almeyda who are really high-level managers and have done really important things with their teams.
"No matter who it is, I think they have to be very committed to the national team."
Dos Santos now returns to the red-hot Galaxy ahead of a match Saturday against the Colorado Rapids. El Tri takes the field again Sept. 7 for a friendly match against Uruguay in Houston before facing the United States four days later in Nashville.