Super League
Novillo promises more to come after outstanding debut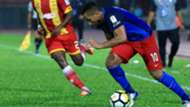 New signing Novillo had a storming introduction to Malaysian football after he almost single-handedly help save JDT from suffering their second defeat in the 2018 Super League as well as on the same KLFA Stadium ground.
The 26-year-old was easily the most eye-catching and outstanding player on the pitch as he displayed qualities that would ensure that he will become a firm fan favourite, sooner rather than later.
His goal in the second half helped rescue a point for JDT as they match Perak's result against Melaka United to remain five points ahead of The Bos Gaurus in the league standings. Once on the books at Olympique Lyonnais, Novillo is already hitting all the right notes, on and off the pitch.
"Really good league. The stadium are crowded. From where I'm coming from, it's completely different. Running more and playing faster, I like it. I knew already a little bit about Malaysian league before I come here and I'm really happy to come here."
"When you enter a changing room as a new player, all the eyes are on you. If you don't prove to these players that you are here to help them, in every club in the world you will have problems. Once you adapt yourself to the club, to the politics and how people are in the club - everything will go well. You come, you work hard and that's it.
"What I know and what I see, no one is better than JDT right now. In the past few years, four titles in a row, that means something. I'm here because of ambition. I had other offers from Malaysia but if I went anywhere else, it would be crazy.
"It's everything a player need in a career - the pressure, the crowd, facilities, professional and atmosphere. In Malaysia, we are the only one. I need this. If I'm not good, I'm not good but I will give my best for JDT," said Novillo in the post-match press conference.
Initially starting out in the role behind the striker Jorge Silva and slightly ahead of the covering midfield duo of Afiq Fazail and Hariss Harun, Novillo was handed the creative license by Raul Longhi and almost everything good going forward produced by JDT went through him.
Chasing the equaliser in the second half, Longhi brought on Nazmi Faiz and JDT reverted to a more familiar shape in midfield with Novillo being pushed to a wider berth on the right. However the former Melbourne City FC player is not fussy where he is asked to play on the pitch.
"We are unlucky not to bring the win home. But the team (Selangor) didn't play against us. They just kick the ball in front and try. They are really scared of us. They know who we are."
"The future will be better. I'm confident. I trust my partners, the team, the staffs - everything will be okay. The position that the coach tell my to play, I'll play. I just put my head down and play. Doesn't matter if I like this position or that better. As long as I help the team, I'll do it," added Novillo.