A-League
A-League's 4+1 rule unlikely to tempt J.League stars
Goal Australia Chief Editor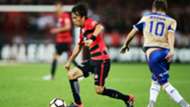 A-League fans hoping the proposed 4+1 foreign player rule will lead to a mass migration from the J.League to Australia are likely to be disappointed.
A former A-League player, who has placed numerous Japanese players with National Premier Leagues (NPL) clubs, has warned there remains a serious gap in terms of salary expectations between what clubs are willing to pay and what J.League players demand.
Naoki Imaya, who played for New Zealand Knights in the inaugural A-League season and now runs his own football academy in Japan, is excited by Football Federation Australia's (FFA) decision to restrict one import spot to players from other Asian Football Confederation (AFC) members from 2018-19.
The impending change - that FFA has pledged to "prudently review" at the end of the 2017-18 season - will see the A-League move in line with the majority of leagues in Asia.
Imaya is convinced more players from the AFC's leading nations will add something different to the A-League and improve the competition.
But to sign someone of the calibre of Western Sydney Wanderers winger Jumpei Kusukami, who joined from Sagan Tosu this season, A-League clubs will generally need to revise their salary offers.
"I think a lot of players in J1 [Japan's top division] receive around $250-300,000 net plus win bonuses, which they should probably be collecting about an extra $100,000 on top of that and they're probably going to get not even half of that in the A-League if they're lucky," Imaya told Goal.
"So that's always been a real hard case and so obviously A-League clubs will look for players like Jumpei, who hasn't played [much] in J1 and I'm pretty sure he took a pay cut to come to Western Sydney Wanderers. But I think he wanted something different, a new challenge."
Jumpei played just 31 minutes with Sagan Tosu in 2016 before signing with the Wanderers in July.
Imaya, who also works as an agent, regularly receives calls from J.League players interested in moving to the A-League but their salary expectations are often a stumbling block.
While this may mean that A-League clubs will focus on recruiting from other Asian countries, Imaya believes there are still Japanese bargains to be found.
The 36-year-old is in Australia this month on what has become an annual trip to help place Japanese players with clubs in the NPL.
The group of players he is representing include two with experience in Thailand, plus another who played in New South Wales' second division last year but could join Blacktown City for 2017.
The advantage for A-League clubs of signing an import who has already proved themselves at NPL level is that the player should have already adapted to Australian playing and training styles, as well as the conditions and culture.
"Lower-budget [A-League] clubs will probably pounce on those state league visa players, who are more than capable to make that step up," Imaya said.
One of Imaya's clients - Tasuku Sekiya - scored 10 goals in 20 appearances for APIA Leichhardt last year to finish equal sixth in NPL NSW's Golden Boot standings and was named in the competition's team of the year for 2016.