Jesus or Firmino, Fred or Paulinho? How Brazil could evolve throughout the World Cup
Last Updated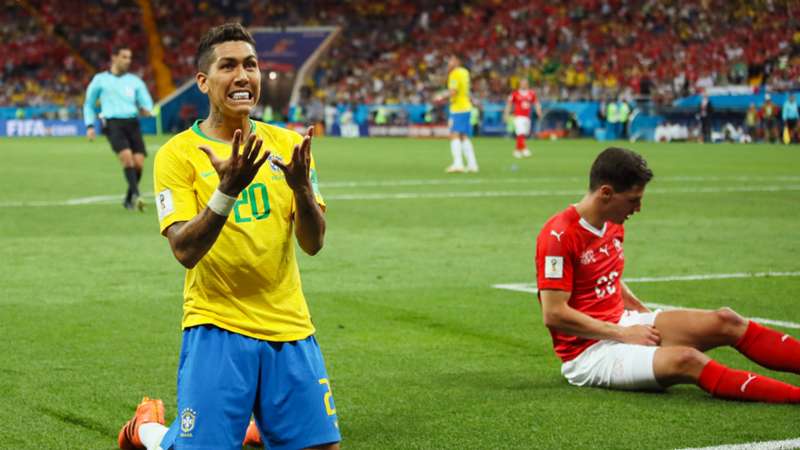 Getty Images
Despite Brazil's disappointing draw with Switzerland in their opening World Cup match on Sunday, there has not been a major clamour for coach Tite to make sweeping changes to his line-up.
It was the first time the five-times champions have not started a World Cup with a victory since 1978, and since the final whistle they have been criticised for sitting back after Coutinho's opening goal, losing the momentum that they had generated in the opening exchanges and failing to get it back.
Tite made two changes to his midfield and one up front in the final half an hour, but Brazil could not open up the Swiss defence.
And while Globo awarded seven players a rating of either 5 or 5.5 (Coutinho was the highest with 7), there has been nothing like the reaction in Spain, for example, following David De Gea's opening-game mistake.
In fact, Brazil's scapegoat has been VAR - the Brazilian federation wrote to FIFA asking for an explanation of the decision to let Switzerland's equaliser stand, and why a penalty was not awarded to Gabriel Jesus.
And when VAR is not on the Brazilian news agenda, the locals have been chastising Neymar for paying too much attention to his hair and step-overs.
The Paris Saint-Germain forward has been in the news again this week after he limped out of a training session with an ankle injury, but he is expected to face Costa Rica on Friday regardless.
Indeed, Tite says he will not make any changes to his team for the match in Saint Petersburg, but he certainly has plenty of options available to him if he wants to shake things up during the game, or later in the tournament.
Paulinho, for example, could feel especially vulnerable. The midfielder had a good season for Barcelona and has been important for Brazil again during Tite's reign, but he struggled against Switzerland's deep, organised defence, and crucially he has two serious rivals for his position.
Renato Augusto, the only China-based Brazilian to play at a World Cup, did bring something different when he replaced Paulinho on Sunday, and is a more creative option, which will almost certainly come in handy against Costa Rica and Serbia, two teams that will look to replicate Switzerland's approach.
Another option is Manchester United new boy Fred. The former Shakhtar Donetsk man brings drive and energy from a deep starting position, allied to a fine range of passing, and is available again after an ankle injury.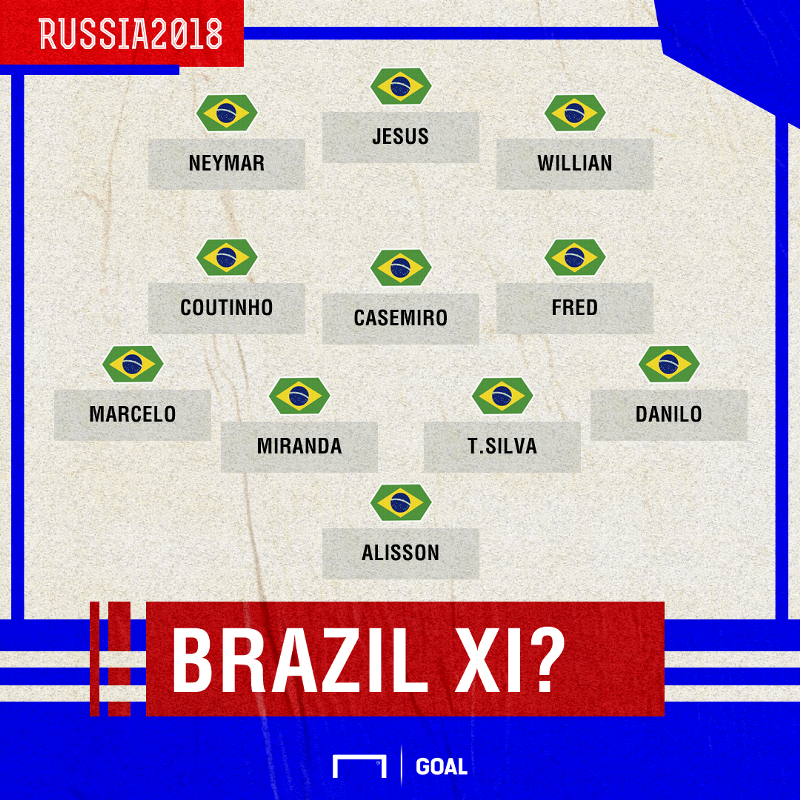 The defenders and goalkeeper are likely to be unchanged throughout the tournament. Like Neymar, Marcelo had a poor game on Sunday but will almost certainly retain his place, although Felipe Luis is a capable deputy if required. The same goes for Marquinhos, should one of the more experienced centre-backs - Thiago Silva or Miranda - get themselves injured or suspended.
Goalkeeper Alisson is rated as one of the best around, and he is keeping out Manchester City's Ederson, despite his strikingly accurate distribution.
Casemiro was actually the first player to make way on Sunday, with Tite bringing on Fernandinho for a little more thrust going forward, but the Real Madrid man is unlikely to lose his starting berth at any point this summer, given his importance to the side. Fernandinho will be used again, but most likely from the bench.
Coutinho was only dropped back into a midfield role on the eve of the tournament but he has been playing there for Barcelona since his January move, and his goal against Switzerland is further proof that he is well equipped to stay there. Should he be pushed back into the forward line, most likely at the expense of Willian, then one of Renato Augusto or Fred could fill in.
Willian failed to shine on Sunday but, for now, he keeps his place ahead of Douglas Costa. Neymar, despite a wasteful performance and his ongoing recovery from injury, is very unlikely to be left out at any point.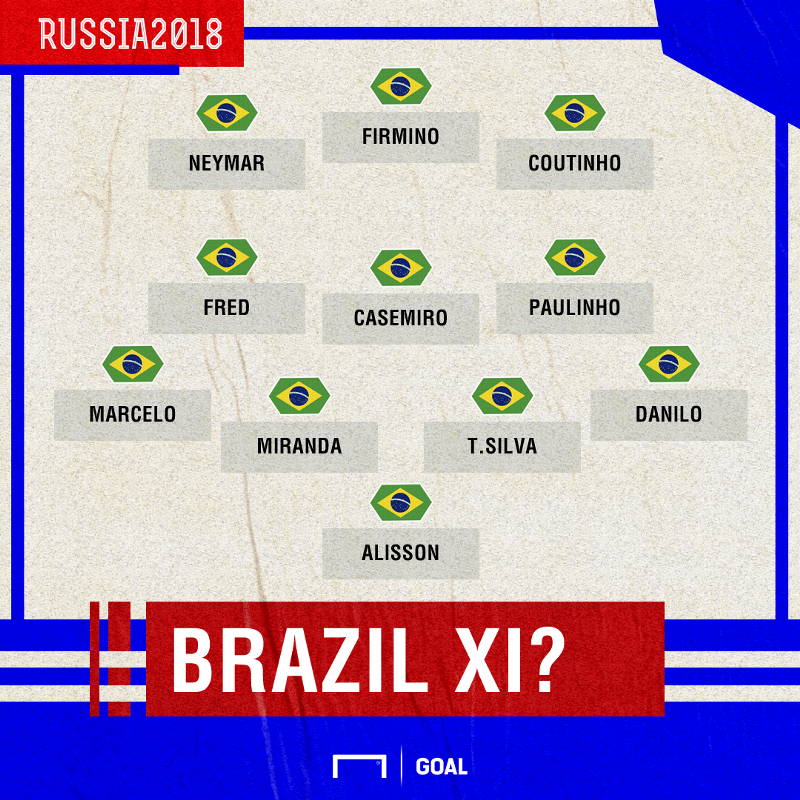 Things could be different for Gabriel Jesus, however. Tite does favour the Manchester City striker over Roberto Firmino, but the Liverpool man's efforts in recent months - for both club and country - have not gone unnoticed.
Tite says Firmino is playing with confidence and that his performance in the last 20 minutes on Sunday, in Jesus' place, was "very good".
Jesus, as is occasionally the case with City, did a lot of good work outside of the penalty area and out of possession, and it would be a little harsh to drop him after one game, given his performances for his country since making his debut in Tite's first match in charge.
But given Firmino's similar talents, and his arguably more impressive season with Liverpool, he is a strong candidate for a starting spot later in the tournament.