African All Stars
Iwobi needs to score more goals to become a top player, says Arsene Wenger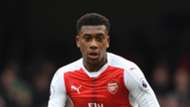 Arsenal manager Arsene Wenger has charged Alex Iwobi to be more efficient with more goals and  to become a top-class player.
Iwobi has been an integral member of the Gunners first team since his promotion from the club's academy with five goals in 41 English Premier League games.
The French gaffer disclosed his admiration for the 21-year-old's pattern of play and tasked him to be more lethal in the opposition's area with goals and assists.
"I like the fact that he can play in tight areas, that he turns the game forwards, that he's very mobile," Wenger told club's website.
"We forget sometimes that Alex is still a very young player and that there's a lot more to come from him.
"There must be a lot more to come from him because he has more personality in the game now.
"We expect him to be more efficient in the final third offensively, because you feel there are goals in there and assists too.
"They have to come out. Add that to the fact that he allows the team to play very well and he will be a top-class player."