Manchester United
'It's impossible to win titles being defensive' - Herrera hits back at Mourinho's Man Utd critics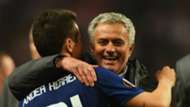 Criticism of Jose Mourinho being defensive bemuses Ander Herrera, with Manchester United's record under the Portuguese beyond question.
The Red Devils took the decision to move in a different direction last summer as they showed Louis van Gaal to the door and passed their managerial baton to a proven performer.
Man Utd 4/6 to score first v Basel
Mourinho's first campaign at the helm delivered Community Shield, EFL Cup and Europa League success, while 2017-18 sees United back in contention for the Premier League title.
They have, however, faced accusations of being too conservative, particularly in big games, with their manager shouldering much of the blame for that approach.
Herrera, though, believes United's detractors are not looking at the bigger picture, telling beIN SPORTS: "If you look at Manchester United's statistics, until three weeks ago, we had scored the same number of goals as Manchester City had and we were the second-highest goalscoring team in the league.
"Many times the tags in football are needed from a journalistic standpoint but they don't reflect the truth, like in Mourinho's case.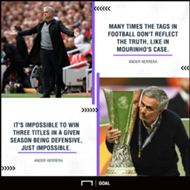 "Last year, we won three titles having the majority of possession in most of the games and creating more [goalscoring] chances than our opponents.
"It's impossible to win three titles in a given season being defensive, it's just impossible."
United and Mourinho will be expected to deliver more success by any means possible in the current campaign, with silverware demanded at Old Trafford.
Herrera hopes the club can live up to expectations, but has warned that Champions League success could be a step too far for a side which remains a work in progress.
The Spanish midfielder added: "As a club, we have the duty not to renounce to anything, to fight for every title.
"But it wouldn't be fair on us or the club to have the obligation to win the Champions League yet.
"We are coming from the Europa League, it's true that we won that last season, but we didn't finish in the top four of the domestic league despite winning the FA Cup the previous year [2015/16].
"Last season, we finished sixth in the league and we won three titles and although it was a successful campaign, it wouldn't be fair to have the duty to win the Champions League this season.
"I can assure the fans that we are going to give our all, so that the jersey and emblem that we defend, competes in Europe and in the Champions League for as long as possible.
"So far we've done well. We are among the few teams [Paris Saint-Germain, Manchester City] in the Champions League to have taken 12 points in four rounds."