Transfers
'It was a disaster!' - Morata considered leaving Chelsea in the summer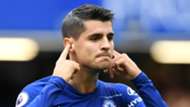 Alvaro Morata has admitted that he considered leaving Chelsea for a return to either Spain or Italy before the transfer window closed.
The striker only joined the Blues from Real Madrid last year after being frustrated with his playing time in La Liga ahead of the 2018 World Cup.
After a bright start in London, Morata was soon dropped from the Chelsea starting XI as he began to struggle with injuries, netting just one Premier League goal in 2018.
"Last year I wasn't happy. I started well but at the end it was a disaster," Morata told reporters.
"I went out to the pitch and did even not know where I was. I considered returning to Spain or Italy.
"But you can't always escape reality, I left Spain to earn a place at the World Cup and I did not go.
"It was hard. I'm going to do everything I can to go to the next one, it was a difficult time because I expected to go.
"I didn't have the best season. The boss took a decision. I don't resent [Julen] Lopetegui, I wish him all the best at Real Madrid."
Lopetegui left Spain on the eve of the World Cup to join Madrid, but for Morata, a return to Santiago Bernabeu was not an avenue that was open to him if he had decided to leave Chelsea during the transfer window.
"There was never an option to return to Real Madrid this summer," the striker revealed.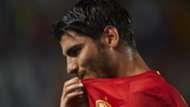 New Spain head coach Luis Enrique has recalled the 25-year-old for La Roja's upcoming Nations League clashes with England and Croatia , and Morata admits that returning to the squad was a nervous proposition.
"I feel like it's the first time, I was nervous yesterday, I arrived an hour and a half early," Morata continued.
"Luis Enrique tells us that he wants Spain to win again and that everyone knows who Spain are.
"There are times when I stopped appreciating coming here. You do not think about every match you play with the Spanish national team until you have to watch the matches from home."
However, Morata does not yet feel that things are different under the new boss, having only been introduced to the squad on Monday ahead of the clash with England at Wembley Stadium on Sunday, September 8.
"We have not been given much different instructions," Morata admitted. "Each coach is different and asks for their own things. It was a simple presentation, each coach has his style, we are all happy, it was just an introduction.
"I like him at the moment as a coach. We have had two training sessions, he asks for a lot of intensity, a lot of concentration. He seems to me a very sincere person who wants to win."