Bengaluru
Bengaluru FC: Will ISL 2018-19 be a season of goals for Udanta Singh?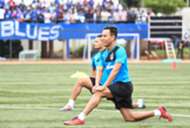 Udanta Singh has been a mainstay at Bengaluru FC's right flank for over two seasons now. After joining the Blues in 2014, he earned a reputation for his pacey runs down the flanks that has helped him set up plenty of goals for his teammates.
At just 22, the Manipur-born forward has turned into a regular for club and country. But after four seasons with Bengaluru FC and a season on loan at Mumbai City in ISL, one major drawback of Udanta's game has been his output in front of goal. 
In the last four years, Udanta Singh has scored just five goals. Last season, he racked up 7 assists in the Indian Super League, joint-highest alongside Marcelinho's tally. But once again, the season also showed how the winger, nicknamed 'The Flash' for his outstanding pace, can fail in the final third. The looming question here is, should wingers also be responsible for scoring goals?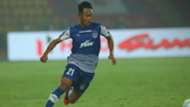 The simple answer to that is a resounding yes. To assist is great but adding goals to your individual arsenal will massively upgrade the team's attacking options. A goalscoring winger always adds to the team's attacking threat. More than that, Udanta needs to decide whether he is a striker or a winger as he had started his career as a forward. Meanwhile, he can still be a potent goalscoring threat from the wings. 
He only needs to look at club-mate Sunil Chhetri who bangs in the goals from the left wing for inspiration.
Udanta Singh has just one goal in ISL so far and that too from 1463 minutes of football. His goal conversion rate (goals to shots ratio) is 5 per cent, an appalling figure for a player who is part of an attacking front-three system. 
It is easy to say that Bengaluru FC have not faced with repercussions of the winger's poor goalscoring record. With Sunil Chhetri and Miku playing alongside him in the attack, the Blues have always had a way with goals. But the burden on his partners would be greatly reduced if Udanta can also add to the goalscoring tally. Chhetri and Miku combined to score close to 73 per cent of Bengaluru FC's goals last season in the league. Udanta can help change that reliance which would make Bengaluru even more lethal and fearsome..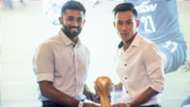 Scoring goals would elevate Udanta's game by several notches. This would certainly be a major upgrade to the existing Bengaluru FC attack.
He only has to look back to his lessons from his days at Tata Football Academy where he played and scored goals as a striker. The fifth season of ISL could prove to be the perfect stage for the player to come up with more goals for the team. 
If Cuadrat can cajole more goals from Udanta, Bengaluru FC would look a more complete team in their hunt for the trophy. Will this be the season where we see Udanta take centre-stage and come of age?