ATK
ISL: ATK's Eugeneson Lyngdoh - 'I was on crutches for close to two months'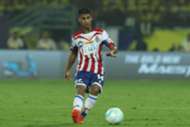 It was no surprise when Eugeneson Lyngdoh emerged as the joint-costliest pick in the 2017-18 Indian Super League (ISL) draft. Netting a cool sum of  ₹1.1 Crore, the midfielder made his way to two-time champions ATK.

A year before that, Lyngdoh would probably pass as the best Indian player in his position by a country mile. His stock was at its highest, given his exploits with former club Bengaluru FC and being a prominent figure for the national team ever since his debut in March 2015.

Much was expected out of him in ISL IV but misfortune struck in ATK's third game, away to Jamshedpur. He had to walk off early after he ruptured the Lateral Collateral Ligament (LCL) on his left knee.

The season for Lyngdoh was over as he underwent surgery in Mumbai under Dr. Anant Joshi in January. He started his rehabilitation process soon after. "I couldn't do anything. I was not supposed to walk. I was on crutches for close to two months", recounted Lyngdoh, speaking to Goal.

"After that, I could bend my knee, started walking and then began physiotherapy. I was back home (Shillong) in complete rest. The moment the brace came off, I was in Calcutta and then started working with the physios at ATK", he narrated.
​
ATK start their pre-season for 2018-19 sometime in mid-August and Lyngdoh is raring to go. He said, "For me, I just want to get fit. Obviously, the game will speak for itself. Ambition right now is to get fit and start playing when the season begins.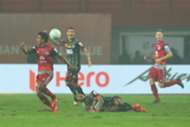 "Last season, I did not get to play much with the team. Right now, I am looking forward to this season even more. I want to make the most out of this season. Knowing that I have been injured for a whole year, the frustration is there.
"(When) you haven't been playing and have been watching the games on television, you want to be part of it. You're sat in the hotel room, watching your side play away and you can't do much. For the team this year, I want to do well.
"Obviously, with the new coach (Steve Coppell) coming in, we need to try to get accustomed to his playing methods, his tactics and philosophy. Looking forward to training with the coach."
Lyngdoh had been asking around about Coppell, who was previously with
Kerala Blasters
and
Jamshedpur FC
and so far has received rave reviews about the former
Manchester United
man.
"I've asked about him from my friends. Everyone says he is a proper gentleman, a respected person, whoever has spoken about him has said he is a great human being."
The Meghalaya-born midfielder insisted that fitness would play a major part in him easing into competitive football after such a long layoff. "The moment I am fit, football is a different game. Being physically fit is my aim right now.
"Let the football do its talking. Obviously, I will try to play with whatever I have. I don't have to change my style or do something extraordinary," he said.
ATK had a forgettable outing last season as they finished ninth in the league and had three different managers over the season in Teddy Sheringham, Ashley Westwood and Robbie Keane.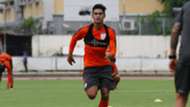 Lyngdoh wants to put the past to bed and seeks a fresh start. "What happened last season, we just need to let it go. We would never want to repeat the same mistakes that we did last season. We finished second last, that is not what we want," he commented.
"We want to be there in the top four. We want to be challenging for the trophy. The objective is to try to win it. It isn't going to be easy. Teams are going to prepare themselves really well as the ISL is getting more mature. It's going to be different. We have to work harder, prepare harder, be fit and mentally, physically, psychologically be up for it," he added.
The Kolkata side has had a bit of a rejig regarding personnel. Lyngdoh's old teammates from Bengaluru FC, John Johnson, Sena Ralte and Malsawmzuala have joined in alongside Kalu Uche, Gerson Vieira and Manuel Lanzarote who appeared for
Delhi Dynamos
,
Mumbai City
and
FC Goa
respectively the previous season.
"Some of them might be new but most of them are those I have played with before or are friends from here and there, played for the same club or in the national team. There is nothing that is going to be different. The main thing is going to be different training methods or different tactical approaches," Lyngdoh expressed on linking up with the fresh faces in the squad.
During the time he was out injured, 20-year-old Anirudh Thapa made the central midfielder's role his own in the national team. "He's got good potential", complimented Lyngdoh.
"On the bright side, players coming up is a good thing for Indian football, I feel very happy to see it. Seeing these kids coming up and them living up to expectations is good for
India
. It helps make the competition a bit better and tougher. For me too, I would want to prove to myself I am good enough. So it's good to have competition - people poking you from behind. This is important for football to grow in
India
," he opined.
Despite the 2019 AFC
Asian Cup
only a few months away, the 31-year-old wants to take it step by step. "First objective is to play regular football, play this ISL, get regular games. Then, the second objective will to try to get back into the Indian team," he concluded.