Indian Super League
ISL 2017-18: Mumbai City FC's Alexandre Guimaraes - 'Sehnaj Singh's absence will not affect us'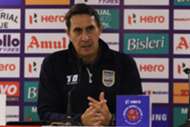 Mumbai City FC coach Alexandre Guimaraes sounded confident ahead of his team's Indian Super League (ISL) away fixture against Jamshedpur FC on Friday night, while conceding that their opponents are a tough team to beat. 
Interacting with the media ahead of the game, the Costa Rican said, "It's going to be a tough game. We know they are very strong defensively. The entire team fight to recover the ball and fill spaces.
"We have to work the game to creating spaces. I am glad we could win the last game and we are on a high as a result," he added, highlighting Mumbai City's recent win over Delhi Dynamos. 
"We went through the pitch and the stadium. It looks ok. We are now reaching a phase of the tournament where we cannot lose points. 
"We are going to play against a tough opponent. I admire Steve Coppell. But I hope it turns out to be a good game for us." 
The 58-year-old went on to highlight the influence star midfielder Achille Emana has had in Mumbai's gameplay, while promising that there is more to come from the Cameroonian. 
"Emana is like a marquee-level player. We knew what he can do. He is playing as per our expectations. He covers a lot of ground distributing balls. Other players are slowly getting used to his style." 
Guimaraes also revealed that barring Sehnaj Singh, who is serving a suspension for picking up a red card in the previous game, he has a full squad to choose from for Friday night's encounter. 
"Sehnaj is out yes but I don't think it will affect us that much. We have played games where he was not present. We have other players in our squad who can take his place," he stated.