Indian Super League
ISL 2017-18: Best attack v Best defence - Contrasting philosophies of Sergio Lobera and Steve Coppell clash!!
Ashwin Muralidharan (@AshwinMNair10)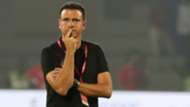 When FC Goa line up against Jamshedpur FC on Thursday night in the Indian Super League (ISL), the Pandit Jawaharlal Nehru stadium in Fatorda will stand witness to a battle between two teams who are polar opposites when it comes to playing style. 
FC Goa, under former Barcelona C team coach Sergio Lobera, have caught the eye with their attractive possession-based football which has already seen fans brand them as one of the favourites for the ISL title. Moreover, they are incisive in attack with the likes of Manuel Lanzarote and Ferran Corominas setting the league alight with goals and assists. 
New entrants Jamshedpur FC, on the other hand, have been a quintessential Steve Coppell side. The Englishman's teams are known for being resolute at the back and Jamshedpur are no different. With the likes of Tiri and Andre Bikey forming a formidable partnership in central defence, it has been hard for teams to break them through. 
Lobera has got his team to play in a style that is quintessentially Spanish with emphasis on playing the ball out from the back. After rotating possession effectively, Coro's movement and pace, along with Lanzarote's vision and technical ability almost always helps Goa work openings in their attacking third. While it is a risky strategy when the players are not really comfortable on the ball, the 40-year-old coach is not perturbed at all.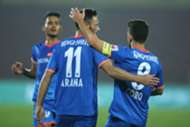 "Defence is obviously something that we need to work on. When I say defence, I'm talking about the entire team. We are a team who looks to open up play and take risks. So this is something that is likely to happen," he had said after his team's 5-2 win over Kerala Blasters last month. 
Despite conceding 15 goals in eight games, FC Goa have pumped in 20 goals themselves and have garnered 13 points. The Gaurs would have been leading the league table if not for the recent slump in form which has seen them notch just the one point from their previous three games. 
The record indicates that FC Goa have the best attack in the league and in keeping with his philosophies, Lobera expects his side to outscore their opponents. 
Steve Coppell, meanwhile, comes to the Gaurs' home, boasting of the best defence in the league. The Men is Steel have lived up to their moniker so far, conceding just the four goals in eight games. The frugal defence has also kept five cleansheets from eight games and have conceded more than one goal in a game only once, in a 2-2 draw against Mumbai City FC. 
As he showed with Kerala Blasters in the 2016 season of the ISL, the former Manchester United manager puts an emphasis on being defensively solid. It can be gauged by the fact that the team has Memo and Mehtab Hossain as central midfielders - two players known for being destructive rather than being creative. Now Jamshedpur have signed Wellington Priori, another defensive midfielder, which is an action that speaks volumes.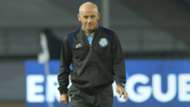 It is a tag Coppell is comfortable with. His teams will be defensively organised and will look to make the most of whatever opportunity their forwards are afforded on the counter. "We have worked hard to be a good defensive unit from day one and if that's the label people give us, that is okay," he had said last month. 
While Jamshedpur might not really grab the attention of fans with their style of play, one has to argue that it certainly is effective. As we reach the half-way point of the league, Coppell's outfit are just three points adrift of the Lobera's Goa. A win on Thursday is all Jamshedpur FC needs to draw level with FC Goa. One has to consider the fact that Jamshedpur have scored just the four goals, compared to Goa's 20. 
The league's best attack comes up against the league's best defence on Thursday but this is also a battle between two different schools of thought!