Indian Super League
ISL 2017-18: Chennaiyin FC's John Gregory - We put a lot of faith in our defence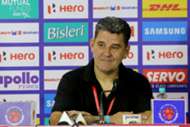 Chennaiyin FC got the better of FC Goa in the second leg of the play-offs as they thumped them 3-0 to win 4-1 on aggregate to confirm their berth in the Indian Super League (ISL) final.
Jeje Lalpekhlua ended a barren run of six games to score twice and get back to his best ahead of the finals this weekend.
"He has always played on his own this season. It can be a lonely job and sometimes if you don't score, you don't get recognition. He has been working really hard. In fact, in the first leg in Goa, he ran himself into the ground. It was the same today. He puts in the effort every time. He missed a chance in the first leg but he knows that if he keeps working, he will get something. I did tell him before the game he will get two today. The first goal was classic Jeje. The third goal was greeted by the whole stadium," said coach John Gregory.
FC Goa coach Sergio Lobera had claimed after the first leg of the play-offs that they can surely score goals in Chennai. However, the visitors failed to score any despite the fact that they scored 42 goals in 18 matches in the league stage.
"We put a lot of faith in our defence. Goa put a lot of faith in their attack. To get into our team, you need to put the effort in. We ran ourselves till the end and we've got endurance. My players are very fit.  Football wise, we are not as technically gifted as Goa. They are difficult to play against and they pinned us back in the early stages. We could do nothing but hang in there and that has been what our team has built on. The ability to hang on and then get up the other end to take our opportunities. 
"That's the way we play and that's the way (all out in attack) Goa play. Sergio has said many times he will keep scoring and he has potent goalscorers but tonight it was more difficult," explained Gregory.
Goa had scored three goals against Chennaiyin FC in their very first game this season. Since Lobera's team have only managed to nick in a single goal in close to 315 minutes of football against the Abhishek Bachchan co-owned side.
"At half-time after the first game, I was thinking what the hell have I done. But we had a good second half. We changed the shape of the team which benefitted us. One or two people didn't fit in our roles and we became more difficult to play against. Defensively we were strong. I looked at my players and it was better to do it the way we did and we did not look back from there (that game). It's been a great night for us and our fans have stayed with us throughout," he mentioned.
Chennai had three of their four defenders on a yellow card and they were just a booking away from not being in the final. Gregory emphasized that his players worked on their positional sense which certainly helped them.
"We've obviously got three foreign players in our defence.  Goa tended to load their team up in attack with foreigners. We've got three experienced players playing with a 19-year-old left-back. We've worked on our positional sense and they pick it up very quickly because of that experience. They take on board my advice well and they are leaders on the pitch as well. These three boys interact with everybody and have fantastic attitude. 
"Before playing Mumbai (the last game of the league stage), I was going to start a entirely new backline. As we went about the training, Calderon and Sereno coached the four boys to give them confidence and let them know how to go about it. They just took it upon themselves. That's the sort of guys I have in my team. They're just a joy to be around," he hailed the trio of Mailson Alves, Inigo Calderon and Henrique Sereno.
Gregory stated that his team still have a lot of work to do if they have to clinch the title this season at the Kanteerava stadium, Bangalore.
"We haven't done anything yet. We've just reached the final. Looking forward to the weekend now. The emotions of reaching the final might hit me a bit later possibly. It's quite incredible feeling really. I still remember meeting the team first and we've built some trust and understanding and the result is that we've reached the final. When you go to the final, you have to make sure you win it. People talk about enjoying the final, but you enjoy it only if you win it."