Indian Super League
ISL 2017-18: Albert Roca hoping NorthEast United can take points off other teams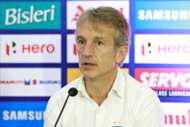 Benglaluru FC reclaimed top spot in the Indian Super League (ISL) after a narrow 2-1 win over NorthEast United FC at their home ground on Saturday. Skipper Sunil Chhetri scored the winner for the home side after Marcinho's penalty had cancelled out Juanan Antonio's 12th minute goal.
Bengaluru coach Albert Roca was delighted with the win and refused to dwell too much on the penalty conceded by his side.
"I couldn't see the incident (penalty) so I cannot comment on that. It was the simple side of the game which was tough and hard for us because we were managing the game quite well otherwise. This is not something you can control. For some moments, sure it was difficult. It is difficult to overcome such situations," he said at the post match press-conference.
"We had a talk before the second-half to be calm and not to be rash in such situations. Then it was just a question of trying to score and go ahead again," he added.
Despite the win, Roca was full of praise for the opponents and described them as a tough side.
"Believe me we knew how difficult it would be today to win against the NorthEast even if they might not be top of the standings because they have a very positive dynamic. We knew that it will be tough because they are a very physical team with good, strong and quick defenders and midfielders. Narzary (Halicharan) and Doungel (Seiminlen) give them a very good shape so they can create," he explained.
The Spaniard said that he expects Avram Grant's men to climb higher in the table as the season progresses.
"They don't deserve to be in the position they are in but they had a bad start of the season. We know they will much higher up by the time the season ends," he stated.
Having regained their top spot in the league, Roca said his side needed to win three more games to ensure their progression to the knockouts.
"It is very important to follow the other teams around us also. Yesterday Chennaiyin FC won, even FC Pune City had won earlier. We are at the same stage. It was very important to eliminate one team today (NorthEast). They will take points from the remaining games now that Grant has come in. Therefore today's win was very important. We have six games to go, we need to win three of them at least. So that's the aim for us," he remarked before signing off.