Indian Super League
ISL 2017-18: Assistant coach Bastab Roy likens ATK's situation to that of Real Madrid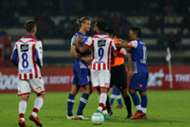 ATK assistant coach Bastob Roy is hopeful of a top-four finish for his side in the Indian Super League (ISL) table. The Kolkata-based club is currently eighth on the table, two points above their next opponent NorthEast United.
"Now the situation is that it is a must-win game for us, as well as for NorthEast United who are struggling in the league table. Everybody needs to win their matches. So we have some planning but cannot disclose it here," said the Indian coach.
"The table is very unpredictable. If we can win two or three games in a row we can achieve it (top-four). It's a must win, do or die game for us."
ATK succumbed to a stunning goal by Sunil Chhetri and lost their last game to Bengaluru FC. Roy blamed it on luck and said that he is looking forward to picking up three points against NorthEast United on Friday.
"We played some very good matches except against FC Pune City. The luck wasn't with us. In the last match which we lost to Bengaluru FC due to some big deflections. We missed some chances. Robbie Keane had a great chance which was saved by Gurpreet Singh. So it happens, it's part of the game. We are not looking back. We are looking forward and will try to win this match.
The assistant coach is banking on hard work to turn the tables around for ATK.
"Only hard work [will help us improve]. That is what is in our hands. Chances and luck factor are not in our hands. In football, you have to score a goal and try not to concede. That is what we work on."
Roy pointed out the situation of Real Madrid when asked about the unexpected position in the table that ATK finds themselves in.
"Have you seen the recent situation of Real Madrid? It happens, it's a game and its football. We cannot win every season, every match. Ups and downs happen and we are trying to improve our situation in the league table."
Lastly, the Indian coach also delivered bad news in terms of injuries in the squad.
"Robbie [Keane] is injured. He is not travelling with the team. He got an injury against Bengaluru. We are sacrificing him for this game so that we can have him for the next nine matches in the league."