Australia
Isaias Sanchez ineligible to represent Socceroos at the World Cup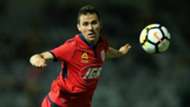 Adelaide United's Spanish captain Isaias Sanchez won't be available for Australian World Cup selection after it was revealed he fails to meet the eligibility criteria.
Isaias, who is due to receive his Australian visa imminently, was hoping to represent the green and gold in Russia once eligible. 
But according to former Asian Football Confederation head of legal James Kitching, the defensive midfielder will not be allowed by FIFA to represent the Socceroos until after the World Cup.
"Unfortunately, he will miss out by a matter of months, if not weeks. Because Isaías doesn't qualify through heritage, he would need to have lived continuously in Australia for five years after turning 18," Kitching told The World Game.
"His five years arrives in July 2018, during or after World Cup. But he will be eligible for the 2019 Asian Cup."
Isaias has been one of the in-form central midfielders in the A-League - leading to calls for his national team selection.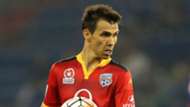 The 30-year-old admitted as recently as December that representing Australia would be a 'dream'.
"Being a Socceroo is in the back of my mind," Isaias told The Advertiser following the Reds' 1-0 loss to Sydney FC.
"It will be a dream for me but I know it will be difficult because Australia has very good midfielders and very good players to choose from.
"But of course I always dream big and one of these challenges is to represent Australia."
The Socceroos will face France, Peru and Denmark at June's World Cup in Russia.