MLS
Inside Opta: Nagbe thrives as tucked-in winger, Columbus shows off new formation and more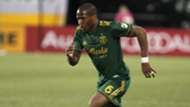 Darlington Nagbe is one of the most enticing talents MLS has to offer. That much has been clear since he debuted for the Portland Timbers back in 2011.
This is a player with the kind of technical ability that rarely emerges from the American system, a player who can work in tight spaces and kill opponents in the open field. The touch, the burst, the creativity — Nagbe seemingly has it all.
It's why pinning down the ideal position for the 26-year-old has been such a polarizing topic. Nagbe excelled as a winger early in his career, notching 15 goals from 2012 to 2013. The Timbers also tried him as a No. 10 to mixed results. He thrived in a two-way midfield role as the Timbers won the MLS Cup title in 2015. But he found himself back on the right flank last year, scoring just one goal in 27 appearances.
Entering 2017, Timbers coach Caleb Porter eliminated the ambiguity. By signing David Guzman in central midfield and Sebastian Blanco on the right flank, Portland set aside the left winger role for Nagbe. Through three matches, the Timbers have to like what they're seeing.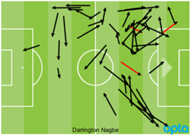 Nagbe's passing chart against Houston on Saturday.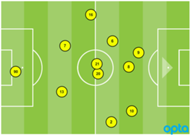 The Timbers' average formation against Houston on Saturday — note the position of Nagbe (6).
With a 4-2 win over the Houston Dynamo on Saturday, the Timbers are MLS' only team with a perfect record. That match — particularly the second half, as Portland stormed back from a 2-1 deficit — served as an ideal showcase for what Nagbe can do drifting in from the left flank in Portland's 4-3-3 formation.
The U.S. international connected on 46 of 49 passes and was sixth among all players in Week 3 with 11 recoveries, allowing the Timbers to relieve pressure and maintain possession. By darting inside on the dribble, he created the space that left back Zarek Valentin exposed on Diego Valeri's 58th-minute equalizer. Nagbe then assisted Guzman's 66th-minute winner with a spinning setup in the box.
This also is the role Nagbe played in Bruce Arena's first match back as U.S. national team coach, a 0-0 draw with Serbia in January. With Fabian Johnson sidelined, Nagbe should get the nod for the Americans against Honduras on Friday. And based on current form, don't expect much of a drop-off.
---
Crew look sharp in 3-4-2-1 formation
---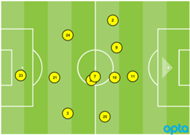 Columbus' average formation against D.C. United on Saturday.
Since taking over as Columbus Crew coach ahead of the 2014 campaign, Gregg Berhalter has made his proactive 4-2-3-1 formation a club staple. It's a system that paid dividends, of course, with a playoff berth in his first season and a run to the MLS Cup final in 2015.
But after missing out on the postseason last year, Columbus wanted to add some diversity to its approach. Enter the 3-4-2-1 formation, which the Crew debuted Saturday en route to a 2-0 result at D.C. United for their first win of 2017.
"We want to have an alternate system," Berhalter said. "We got a shutout and we won a game on the road, so it went pretty well. It wasn't the prettiest — I still think we need to work on our spacing and some of our movement to be more effective offensively, but the way the guys worked together was impressive."
Defender Alex Crognale added: "It's something we've worked on all preseason and throughout the first few weeks of the season, so it's something we've had in our arsenal."
PODCAST: Ethan Finlay eyes Crew resurgence
With United known for a direct style and Jonathan Mensah suspended — depriving Columbus of its most physical defensive presence — Berhalter compensated by deploying three center backs: Crognale, Josh Williams and Nicolai Naess.
United enjoyed 53 percent of the possession but could only manage three shots on target, with Crognale and Naess tying for third among all players this week with 11 clearances. It was a particularly immense performance from Crognale, a 6-foot-5 rookie who stepped up with numerous last-gasp interventions in his professional debut.
"We knew that they wanted to cross balls into the box," Crew captain Wil Trapp told Goal. "Our center backs played really well, and it gave us a lot of flexibility in terms of defensive shape as well as moving into transition."
Wing backs Harrison Afful and Jukka Raitala also were key, both getting getting forward on the attack and providing defensive discipline. When United was in possession, the wing back on the flank opposite the ball tucked into the back line to give Columbus a four-man unit.
"I thought Harrison and Jukka did a really, really good job of timing it well and closing space quickly," Trapp said.
A caveat to this formation: With the attacking midfield trio cut down to two playmakers, someone has to make way. Ethan Finlay was the odd man out Saturday, with Federico Higuain and Justin Meram starting underneath striker Ola Kamara.
As Berhalter mentioned, Columbus didn't exactly light it up offensively in this look — both goals came on penalties — but you can't argue with the end result.
---
Quick kicks
---
Capitalizing on Johan Kappelhof's 11th-minute red card, Atlanta United completed an astonishing 868 passes in its 4-0 rout of the Chicago Fire. That marked the highest total since Opta started tracking MLS matches in 2008. The previous record: 745 passes completed in Sporting Kansas City's 3-0 win over the 10-man Montreal Impact in May 2014. ...
Patrice Bernier may be 37 years old, but he still can get the job done in the Montreal midfield. The veteran not only set up Dominic Oduro's equalizer in a 1-1 draw at New York City FC — he completed 38 of 41 passes and led all players this week with six scoring chances created. ...
Cristian Roldan continues to grow, topping all players in Week 3 with 13 duels won in the Seattle Sounders' 3-1 win over the New York Red Bulls. While he famously struggled at fullback in a playoff defeat to FC Dallas in 2015, the central midfielder looked confident playing the final 25 minutes at right back Sunday.