Indian Super League
Indian Super League: Delhi Dynamos coach Miguel Portugal to implement Spanish philosophy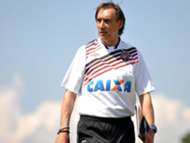 Delhi Dynamos' new gaffer Miguel Angel Portugal has promised fans that his side will be focusing on a good passing style of football in the upcoming Indian Super League season. 
The former Real Madrid technical director spoke to Goal after he was unveiled as the Delhi Dynamos head coach on Monday. 
The 61-year-old is a well travelled coach and was the first Spanish coach in the Brazilian Serie A. He revealed during the interaction the motivation behind him taking up the Indian Super League challenge, with Delhi Dynamos' partnership with Qatar's Aspire Academy playing a key role. 
"I've worked at different places and now I wanted a new challenge. Ivan from the Aspire Academy told me about this new challenge and I thought that the move came at the right time for me. I am looking forward to working this year with the club," he said. 
The Delhi-based franchise have had three different coaches from three different nations in all the seasons so far, with Harm van Veldhoven (Netherlands), Roberto Carlos (Brazil) and GIanluca Zambrotta (Italy) coaching the team. When asked what is the philosophy he will bring to the team, Portugal asserted that the fans can see a strong Spanish influence. 
"My style is of keeping the ball and playing good passing football like how the traditional Spanish clubs play. My players need to be smart and they should know good positioning sense," he replied.
The former Real Madrid midfielder also revealed that Delhi have already identified whom to pick up from the Indian player draft and the Spaniard himself has taken a look at video footage from previous seasons, given that Delhi are going into the draft without retaining any player. 
"It's a new scenario for me but then it's okay. A new challenge for me and I am looking forward to the draft. I have identified some players, I have looked at the videos from various Isl and I-League matches and I have some players that I am looking forward to getting in the team," he concluded.