India
Indian Football - Subrata Paul Failed Doping Test - Arjuna Awardee refuses sample 'B' test, to defend case on sample 'A'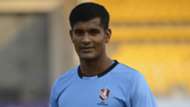 Subrata Paul is pulling out all the stops to ensure his name isn't tainted with the title 'Drug cheat'. 
However, the DSK Shivajians' number one has decided to structure and defend his case to a specially appointed panel at the National Anti-Doping Agency (NADA) without submitting the 'B' sample required to run the crucial tests again. The 'B' sample tests are usually carried out in the presence of an indepedent observer. 
Pal, an Arjuna awardee, didn't turn up at the NADA headquarters in the national capital New Delhi, for the submission of the second sample and it is believed he will instead opt to defend his case solely on a single 'A' sample. Yesterday, Monday the 1st of May, was the last day for Paul to excercise his sample 'B' option. 
The former Indian national team's skipper and first choice goalkeeper,  Goal can state with some certainty, has been suspended for the use of a drug named Terbutaline.  While terbutaline is what is pharmacologically called a Beta 2 Agonist and is often used in asthma and respiratory conditions for instantaneous relief, it is also one of the banned substances listed by the World Doping Agency. 
It is alleged to increase performance in athletes by increasing blood flow to muscles but conclusive evidence for the same is still lacking. It is usually inhaled but in Paul's case it was taken as part of a cough syrup (one of the rare uses of terbutaline). 
Aizawl FC's route to the I-League trophy! 
The 30 year-old goalkeeper maintains that it was a drug prescribed to him by the national team's doctor. It is reported that in an informal meeting with NADA officials last week, Pal and the doctor met with officials to lucidate the case. It is believed that NADA officials were consdierate and have requested Paul to frame his defense around the claim offered - as to Terbutaline medicinal uses. 
When - The screening was conducted right before India's departure to Cambodia, on March 18th. The test was carried out in Mumbai where the national team, under Stephen Constantine's tutelage, was training ahead of a friendly fixture against Cambodia and an all important Asian Football Confederation's (AFC) Asian Cup 2019 group qualifier tie against Myanmar.  
NADA Result Process - The first sample, usually urine and blood samples, of an athlete are analysed to check for irregularities. Checks are maintained to ensure the sportsman's medication prescriptions, termed Therapeutic Use Exemption (TUE), are taken into account. If the sample 'A' fails. the National Federation (AIFF), the International Federation (FIFA) and the World Anti-Doping Agency (WADA) are notified of the result, along with the player. Then, NADA will usually provisionally suspend the athlete until an official hearing is scheduled.