India
Indian Football - Former Indian striker IM Vijayan appointed as National Observer for football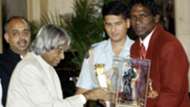 Former Indian striker IM Vijayan has been appointed by the Ministry of Youth Affairs and Sports as the National Observer for football. The ministry has designated 12 former Olympians, including Vijayan, as National Observers to assist in the preparation and implementation of a long-term development programme in their respective disciplines.   
"The National Observers will assist the Government, Sports Authority of India, and National Sports Federations (NSFs) concerned including Indian Olympic Association in the preparation and implementation of the long-term development plan with respect to high priority and priority sports covering all aspects including selection policy, quality specifications for National Camps, long-term athlete development plan, coaching development, development of technical officials and monitoring & evaluation of athlete performance," said a Sports Ministry statement.
Indian National Football Team: Know Your Rivals - Cambodia
Vijayan, undoubtedly one of the most talented players to represent India, told Goal that he was thankful for the assignment. "It is a really good development. I am thankful to the Central Govt and hopefully will be ale to contribute towards the development of the game."
When pressed as to whether he has already laid down plans for the improvement of Indian football, Vijayan mentioned that he has not given it much thought and will do so in the coming days. 
Buffon hails 'the best modern goalkeeper' Neuer
The 47-year-old, who hails from Kerala, was one of the stars of the game in the nineties and was highly-sought after by the top clubs in the country. He has scored around 40 goals for the national team including a record 12th-second goal against Bhutan in the 1999 South Asian Football Federation (SAFF) Cup. 
The Sports Ministry would be keen to tap into the ideas that the three-time Indian Player of the Year award winner might have as they look to implement action plans for the 2020, 2024 and 2028 Olympics.