India
Indian Football - AIFF set to introduce multi-continental Champions Cup in August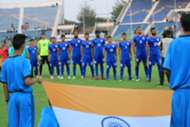 All India Football Federation (AIFF) has proposed a new invitational multi-continental Champions Cup in the month of August, 2017. The newly introduced competition will comprise four countries competing against each other, starting this year.
The four participants included in the Champions Cup are likely to be from an Asian, African and a North American country in addition to hosts India. With inputs from marketing partner FSDL, the Indian FA has studied the current National Team's engagement and have formualted a strategic national calendar program. This shall ensure the senior team trains and plays more often through the year, with special attention to increase the number of games on home soil for the Blue Tigers.
Could the Indian National Football Team be a part of the 2026 FIFA World Cup?
Mr. Kushal Das, General Secretary of AIFF expressed his zeal over the newly initiated tournament. Further, he explained the motive of the Champions Cup and its benefits for the national team.
"We (AIFF) are quite excited on the prospect of introducing the new Champions Cup from 2017. AIFF and its partner FSDL have worked together over the last couple of months in studying the past and current year's National Team engagements and how other countries are performing in Asia.''
''The introduction of the Champions Cup is a result of conscious efforts at our end to ensure the National Team receives enough training camps, international friendlies as well as competitive games. We are in talks with various Football Associations from AFC, CAF and CONCACAF. We envision to consistently climb through the FIFA ranking charts by playing matches against good opponents,'' he concluded.
Praful Patel shows off football skills
Indian National Team was ranked 132 in the rankings released by FIFA in March and with the recent wins against Cambodia in the international friendly and against Myanmar in AFC Asian Cup 2019 qualifier, India is expected to be ranked just outside the top 100 in the rankings to be released in April.