Indian Super League
Indian Football: AIFF discuss option three, final decision after feedback from clubs and IMG-Reliance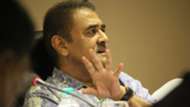 The Asian Football Confederation (AFC) dangled four options for the All India Football Federation (AIFF) earlier this week, which Goal had revealed.
At the AIFF Executive Committee Meeting on Thursday, Praful Patel, the Indian FA President, spoke in favour of the Indian Super League (ISL) and the I-League running simultaneously. He further spoke of the I-League winner earning a chance to compete in the Asian Champions League play-off spot while the ISL champion would participate in the AFC Cup play-off.
However, on Saturday, one of the senior AIFF officials mooted the idea of a Super League which would then decide the two slots India has for AFC competitions.
The idea being that the I-League and the ISL run parallelly before a Super League of eight teams be conducted to determine the top two who make it into the ACL play-off and AFC play-off.
What this would mean that neither the I-League nor the ISL would have a guaranteed berth in the AFC competitions.
Francisco Rufete - 'In the future, Indian Super League will possibly be one of the strongest leagues'
However, one of the challenges of the above-mentioned proposal is to conduct 14 matches per team at the end of I-League and the ISL which would only end by March while India are to compete in the SAFF Championship in the month of May (1-12).
The I-League clubs also demanded HD quality production for all its matches from the AIFF apart from being broadcasted on the Star network.
"The minutes of the meeting have been circulated among the clubs and the commercial partners of the AIFF. Praful Patel stated that he shall discuss the above mentioned plan with IMG-Reliance and the final decision on the same is expected by the 14th of this month," informed a club official who attended the meeting.