India U16
2018 SAFF U15 Women's Championship: India pump a dozen past Sri Lanka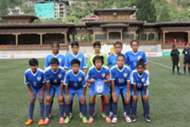 The Indian U-15 women's team got off to an exhilarating start by beating Sri Lanka 12-0 in the opening game of the 2018 SAFF U-15 Women's Championship at the Changlimithang Stadium in Thimpu, Bhutan.

Shilky Devi (1', 20' and 44') completed her hat-trick in the first half itself. Avika Singh (13' and 58'), Sunita Munda (42' and 79') and Anju (87' and 90') registered braces while Lynda Kom (6'), Kritina Devi (47') and Kiran (72') got their names to the scoresheet as well.

Skipper Shilky Devi was on point from the get-go. Shilky netted the first within seconds and playmaker Lynda Kom got one in the opening few minutes. Avika Singh's long-range effort coupled with Shilky's second strike made it 4-0 within the first twenty minutes itself.

Just before the half-time whistle, the goals started going in again. Sunita Munda finally scored having missed a glaring chance earlier while Shilky completed her hat-trick as the scoreline read 6-0 at the break.

Two minutes after the restart, defender Kritina Devi got into the act and Avika Singh added another before the hour mark.

Substitute Kiran and Sunita added a couple more going into the final ten minutes of the game in the Bhutan capital as the scoreline entered the double digits.

Anju, who replaced Shilky in the second-half netted a brace late into the game to complete the embarrassment for Sri Lanka. 

India picked up full three points and will play hosts Bhutan next.