Manchester United
'I'm ready' - Shaw's message for Mourinho after making Man Utd U-23s comeback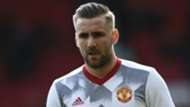 Luke Shaw has insisted that he is ready to return when Jose Mourinho needs him after making his comeback for Manchester United's Under-23 side.
The full-back featured from the start in what was his first game in almost four months having suffered ankle ligament damage back in April.
Ashley Young also made his return in the reserve fixture on Monday night having been out of action with a hamstring injury and Shaw says he is now ready to fight for a place in the first-team.
"It was very good [to return]. I think me and Ash both really needed that," Shaw told ESPN. "I felt like I could have gone on longer but 60 minutes was the aim at the start.
"We were told we would play 45 to 60 minutes so 60 was great for me. I'm feeling really good and I want to push on from here.
"It's down to the manager now [over whether he picks him]. We've had two very impressive 4-0 wins so it's going to be challenging to get back into the team.
"But that's why I've come to United because I want to be in the team and I want to be playing week in, week out. The challenge is good for me and it will push me. When the manager is ready, I'm ready."
Shaw also discussed Mourinho's decision to involve the injured players in the Europa League final celebrations, something the 22-year-old is grateful for despite being frustrated not to be able to play.
"It was great for team bonding," he added. "There are new players coming in and everyone needs to get to know each other better because obviously we're going to be on the pitch together at times this season.
"It was nice, but at the same time it was frustrating and a bit sad because you want to be out there on the pitch. The games we played and the players we played against, I wished I was out there playing against them.
"It wasn't to be but we've got very important games this season with the Champions League, big Premier League games and cup games so there are a lot of games and I'll be ready when the manager calls on me."