NPFL
Ilechukwu: I have 'another philosophy' for MFM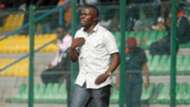 Ahead of next season, Fidelis Ilechukwu says he has 'another philosophy' for MFM.
The Olukoya Boys gaffer has adapted a possession-based style in the last two seasons.
And while his side's early momentum was halted in their debut campaign, last season, he steered them to a second-place finish and a Caf Champions League ticket - also with their signature eye-catching play.
And ahead of a daunting task in the 2017-18 season, Ilechukwu, who admits some of their oppositions are already equipped to nullify their threats, has a new plan.
"We are going to keep on trying. We tried and the continental ticket is in our hands and maybe we are going to continue trying to see if we are going to win the Caf Champions League also," Ilechukwu told media.
"Our quality is bigger than any challenges. We are going to get the players ready. It is very important.
"Yes, I have got another philosophy that I am going to use in the coming season and in the Caf Champions League. Some of our rivals think that they have got MFM's solution but I will surprise them with new tactics and philosophies. I want to play from the side now."