Manchester United
'If Mourinho wants me to play, I will play' - Dalot ready for Man Utd debut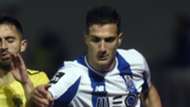 Manchester United full-back Diogo Dalot has declared himself ready to make his senior debut for the club after a slow start to life at Old Trafford.
The 19-year-old made his first appearance in five months in the Under-23 win over Stoke City last Friday following a knee problem.
Manager Jose Mourinho believes Dalot, who moved to United for £19m from Portuguese giants FC Porto, has "all the attributes" to become a top defender in the Premier League.
"If the manager thinks I'm ready and he wants me to play, I will play, for sure," the right-back told ESPN FC.
"I'm going to prepare myself for that and as soon as he wants me, I'll be ready.
"For sure, I'm going to become a better player here. 
"The team have already helped me a lot and I've learned a lot in a short space of time from Antonio, Matteo, Ashley and Luke. I'm looking forward to learning more.
"I think I can get better. We always think we can do better and I have to keep improving."
Following the upcoming international break United face a run of seven games in 21 days across three separation competitions, a sequence which should provide Dalot with an opportunity to impress.
The campaign resumes against unbeaten Watford at Vicarage Road on September 15 before Mourinho's side face BSC Young Boys in their Champions League opener.
Dalot lasted 78 minutes in his first outing since March and was forced to wear an ice-pack on his troublesome right knee though only as a "precaution".
Despite the stop-start nature of the opening months of his United career the teenager has been content with his watching brief.
"It has not been frustrating because you have to be prepared for these things in football," the Portugal Under-21 international admitted.
"I kept my mind always thinking just step by step. I'm one more step closer to where I want to be because I want to play.
"I'm very happy. My body is responding well. I'm happy and I'm looking forward to playing more and more.
"The team have helped me a lot during this recovery time. We are together, we are strong and I can't wait to start.
"I was looking forward to playing in this amazing stadium and I'm looking forward to playing here again."