African All Stars
Idrissa Gueye: Everton need to finish 2017-18 campaign well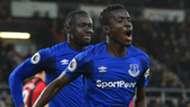 Ahead of Saturday's Premier League fixture against Huddersfield Town, Everton midfielder Idrissa Gueye has charged his teammates to end the 2017-18 season on a high.
The Goodison Park outfit have turned around a woeful start to the season and are now placed eighth in the league table with 45 points from 35 games.
Everton will face Huddersfield, Southampton and West Ham United for their remaining top-flight fixtures this campaign. And Gueye has highlighted how the last three results can help mould the Toffees' mentality ahead of the upcoming season.
"If we finish well this season, it will be good for our minds and will help us build ahead of next season," Gueye told club website.
"We have to finish the best way we can. We have not had the best season but football is like that sometimes. We just have to finish this season well and hopefully, next season will be better.
"I want to do more for this team. I have to improve again and I have to work hard and keep working. Now I say we have to learn from what we did this season and improve next year."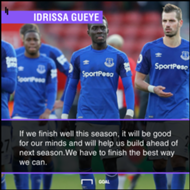 The 28-year-old also gave credit to Sam Allardyce - who succeeded Ronald Koeman at the helm in November - for the improvement the team has seen.
"We know that when he came here we were near the bottom of the table," he added.
"With him, we came out of that. When he came in, we started winning games and at one time we were fighting for seventh place. We were close but even so we have done a good job to improve."