eSports
Ibra, Alexis and Modric - FIFA 18 unveils FUT Swap Deals feature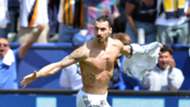 FIFA 18 Ultimate Team has unveiled its newest feature, called Swap Deals.
In a bid to freshen up gameplay, EA Sports has confirmed you will be able to earn tokens through Daily Objectives, Squad Building Challenges and Daily Knockout Tournaments, which can then be exchanged for special items at the end of a 23-day programme.
Two credits, for example, can be exchanged for the 84-rated Liverpool midfielder Jordan Henderson, while you'll need 11 tokens to pick up the 91-rated Luka Modric or Alexis Sanchez, and the 88-rated Carlos Tevez.
Players are unable to pick up every item, much like the FUT Birthday promotion, but tokens can also be swapped for packs. A total of 12 items are available for players.
One token will gift you a Premium Gold Pack, three will unlock a Rare Gold Pack, five a Prime Gold Players Pack and 10 will get you an Ultimate Pack.
The players available will not update throughout, but they will be untradeable.
The full list of players is below, including the tokens needed to unlock them.
84: Keita Balde Diao | ST | Monaco (2 tokens)
84: Jordan Henderson | CDM | Liverpool (2 tokens)
81: Wendell | LB | Bayer Leverkusen (2 tokens)
87: Koke | CM | Atletico Madrid  (4 tokens)
86: Dimitri Payet | CAM | Marseille (4 tokens)
86: Santi Cazorla | CAM | Arsenal (4 tokens)
90: Zlatan Ibrahimovic | ST | LA Galaxy (7 tokens)
88: Lorenzo Insigne | CF | Napoli (7 tokens)
85: Timo Werner | ST | Red Bull Leipzig (7 tokens)
91: Luka Modric | CM | Real Madrid (11 tokens)
91: Alexis Sanchez | ST | Manchester United (11 tokens)
88: Carlos Tevez | ST | Boca Juniors (11 tokens)