African All Stars
'I was a jack of all trades' – Wilfred Ndidi on chidlhood struggles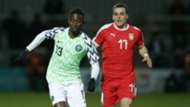 Leicester City midfielder Wilfred Ndidi has opened up about his struggles while growing up on the streets of Lagos.
The 21-year-old, a prominent member of Nigeria's midfield setup, has made a name for himself in the English top-flight as one of the best defensive midfielders.
However, the player's upbringing in the densely populated west African city was not a stroll in the park as he experienced hardship and had to take up several menial jobs on the street to aid his football dreams.
"I was a jack of all trades. I would go around selling different types of foods, like peppers, tomatoes and groundnuts [peanuts]," Ndidi told Kwese ESPN.
"I was actually known for selling groundnuts and sometimes they would call me groundnut boy.
"After I finished selling, I would do a quick one for myself, like wiping the glass of cars and if I could see I wasn't making money quickly I would go and buy pure water [water packaged in sachet] and sell that.
"I was into so many things. I was doing so many things. My best day, I would say was making 8000 naira. I finished selling so quickly around 2 pm and then started cleaning car windows.
"I was so happy going home because I was going home to buy my football shoes."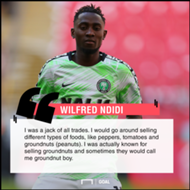 Ndidi ended the 2017-18 English Premier League season as the best tackler with an average of 4.2 tackles per game in 33 league appearances last term.
The Nath Boys Academy product is set to make his debut appearance at the World Cup when the Super Eagles face Croatia at the Kaliningrad Stadium on Saturday after recovering from a hamstring injury.