I-League
I-League 2018-19: Mohun Bagan complete signing of Sony Norde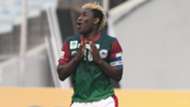 Mohun Bagan have roped in Haitian international winger Sony Norde for the 2018-19 I-League season. This will be the fifth season on the trot for Norde at the Kolkata-based club.
The signing was confirmed by Mohun Bagan director Swapan Sadhan Bose. He said, "With immense pleasure, I wish to announce that Mohun Bagan has completed the signing with Sony Norde for 2018-19 football season.  He is in Miami and will apply for his employment visa by today (Thursday) for which the necessary formalities are being addressed.
"He has agreed to undergo the required medical and physical fitness test upon his arrival in Kolkata. He will be registered with The Indian Football Association (WB) after successful completion of medical and physical fitness test.
"I would like to take this opportunity to thank the two Directors Srinjoy Bose & Debashis Dutta for their efforts in finalising the contract with Sony. I would also like to thank Arnab Mukherjee who was in constant touch with Club and Sony."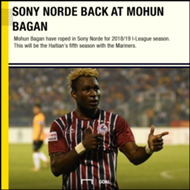 Norde returns to Bagan after 10 months following his exit midway through I-League 2017/18 season due to a knee injury. He had played just four matches in the I-League last season. 
The Haitian had suffered the injury during Bagan's third match in I-League against Churchill Brothers which the club had win 5-0 at the Barasat stadium.
The injury aggravated further when he came out to play against NEROCA F.C within nine days after the Churchill match. Norde finally returned to his country in January this year to undergo a surgery.