Punjab
I-league 2018-19: Minerva Punjab will be banking on Hitova Ayemi for the goals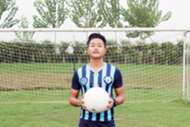 Kivi Zhimomi became the first player from the North-Eastern state of Nagaland to play for a top-division club in the country when he joined I-League side Gokulam Kerala last season. With Zhimomi leaving greener pastures, a certain 20-year old youngster named Hitova Ayemi will be the sole representative from Nagaland in I-League this time around.  
Speaking to Goal, Ayemi shared his story of how a trip to Shillong would be pivotal in his career.  
"I used to play football from my childhood. But it was nothing serious. When I was in Class VIII, I went on a trip to Shillong. Fortunately, at that time Shilong Lajong were holding their trials for their age-group teams and I thought of having a go. After the trials got over, the owner told me to come back after completing my Class X boards. I got really excited and I did not think twice before leaving home for Shillong after my exams," narrated Ayemi.
Like most Indian footballers, his journey to the top has been far from being a cakewalk. 
"Back home in Nagaland, you don't get to train in state-of-the-art facilities. We don't even have good grounds. I used to wake up early and start training as soon as possible. I never got bogged down by that (lack of facilities) as I wanted to become successful. I had to fortify myself mentally. If you prepare yourself well mentally and have the belief, then it becomes easier. It was like 'I had to do it no other way'," reveals Ayemi. 
After spending a year at Lajong, he jumped ship and joined DSK Shivajians. Here, under the watchful eyes of British coach Dave Rogers, he started to improve his skill-set as a winger-cum-forward.
"My coach at DSK Dave Rogers guided me a lot and helped me to prepare mentally before a game. As I kept performing, my confidence began to grow and I decided that it is time to take the next step."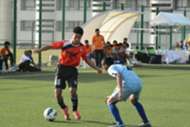 After spending more than two years and putting in impressive shifts for DSK in the Durand Cup, Ayemi decided to try his luck at the senior level and went for trials at Second Division club Fateh Hyderabad. The Liverpool fan had a blistering start to his career at the senior level as he banged in six goals from six appearances. 
"Playing in the second division against foreign defenders has helped me immensely. It was a completely different experience. Yogesh Sir (Yogesh Maurya, coach of Fateh Hyderabad) constantly helped me and he was instrumental in bringing out the best in me."
Ayemi idolizes Chelsea's Eden Hazard and like the Belgian, he likes to dribble past defenders with pace and guile. He likes to operate on the wings where he can burn his pace before cutting inside to have a crack at goal. 
The young forward missed a handful of pre-season friendlies and he finally got some game time in Assam where Minerva took part in a friendly tournament. 
"I got some good match practice in Assam and I will try my best to feature in the starting XI (in I-League). It is my aim to make my mark in the top division as well by scoring as many goals as I can. The target is always to break into the national team squad but I am taking it one step at a time."
With Gagandeep Bali leaving for East Bengal, the stage is set for the youngster to step up to the occasion and make the best use of the opportunity at hand. Can he replicate his form in front of goal with the Warriors as well? For now, let's wait and watch.