I-League
I-League 2017 Kolkata Derby: Sony Norde - Azharuddin Mallick is the future of Mohun Bagan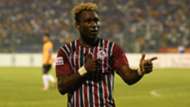 "I am happy that I could leave a mark in the derby," were the words each Mohun Bagan fans longed to hear from Haitian star man Sony Norde and that wish was fulfilled on Sunday.

Mohun Bagan defeated East Bengal 2-1 in Siliguri and won an I-League derby after 743 days all thanks to a delectable free-kick from Norde and an ambitious strike from teenager Azharuddin Mallick.

"It was one of the best matches of my career. I have always dreamt of doing well in the derby and I am pleased that I came good today," the 27-year-old remarked after the high-voltage clash.

He broke into frenzied celebration after his 35th-minute opener. When asked why he chose to replicate a sten gun firing action, he replied, "My wife called me and showed that my infant son was doing that with his little hands. So, that was my way to dedicate the goal to my family, especially the little one."

However, Norde did not get too carried away with the derby victory as he still maintained that each game from here on is a must-win. "I have said that before that we have not won the title yet. A lot is left to do. We have four games remaining and each of them is a final. We have to win all," he said.

"I cannot take the credit alone. It was a team effort as everyone contributed towards the win. We sealed the fate of the match in the first half after Azhar's goal, he is the future of Mohun Bagan," Norde opined.
Soft-spoken Mallick, hailing from a humble background, will have turned into a star overnight but visibly the feeling was yet to sink in for the forward.

"I am very happy. I dedicate the goal to my father. It is because of his perseverance that I have reached such heights," said the youngster who still travels by public transport as compared to his senior team-mates who drive around in their swanky vehicles.

The Mariners next play Shillong Lajong away on Wednesday, 12th March.