I-League
I-League 2017 Kolkata Derby: Sanjoy Sen - Broke the myth that Mohun Bagan cannnot win in Siliguri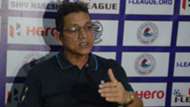 Sanjoy Sen won his second I-League derby after a 743-day hiatus with Mohun Bagan now leapfrogging East Bengal by two points on the I-League 2017 standings.
"No, we are not champions yet. The I-League will not be decided by this result alone. We just are in a better position than we were. Last year's experience tells me that we had lost points in the hills (Shillong Lajong). We were in a favourable position then before we dropped points in the hills and now we are going back there," the Mohun Bagan head coach shared his thoughts.
He continued, "We have broken the myth that Mohun Bagan cannot win in Siliguri. I have come here to win the I-League and that is my first priority. To win the league you have to play till the last match. If we can't win the league, then the derby victory will mean nothing."
Pointing to the next game at Shillong in three days time, he commented, "Lajong is a good side. They have a good record in away games, better than us at least. Now, we have to replicate them and get points in away games. I cannot say that East Bengal are not in the title race because mathematically it is still possible. They can win their three games. The league can be won with 34-35 points. There is an outside chance," argued Sen that the title is still not a two-horse race between Aizawl and the Mariners.
"This win will only be a corridor to the league if we win it. Football is not played keeping ifs and buts as contingents."
The former United SC coach analysed the game and maintained that East Bengal did not even put up a challenge.
"East Bengal were outplayed in every department of the game. We could have easily fulfilled each Bagan fan's longstanding wish to overturn the 5-0 loss of 1975 if Duffy had converted and others followed suit. In recent times, East Bengal have been a good opposition in the last few derbies and have given a good fight. But, today, they were nowhere."
With Aizawl losing 1-0 against Bengaluru FC, Mohun Bagan just trail the Reds by two points with a game in hand but he did not want his players to know the result of the 4:30 PM kick-off before they took to the pitch.
He said, " I told my players that they would get nothing by looking at other results. If we wouldn't have won tonight then there would be no perks of Aizawl losing."
Sen won his first ever match at the Kanchenjunga Stadium in Siliguri and he described it as the perfect way to silence his critics.
"Of course, the myth has been broken like in my coaching career I have never won in Mumbai and likewise it was for Siliguri. The performance was needed to break the myth. Credit goes to all the players for this."
"This win, of course, gave me a lot of satisfaction from the last season when I was confined to a small room and we were losing 2-1 and then Jeje missed a penalty," he said referring to last season's derby when he was suspended by the All India Football Federation (AIFF).
Sen praised star man Sony Norde who scored his first goal in his fifth Kolkata derby. "The goal from Sony Norde was very much needed. If you do not score in a derby you haven't made it in Kolkata football. He made up for that as it was lacking in his repertoire - a goal in the derby."
He was pleased for 19-year-old Azharuddin Mallick who stole the show with a delirious goal in the 43rd minute which sealed the game. "I thank almighty God that Azhar scored tonight. I always wish that he scores whenever he plays. I do not know after how long a Bengali boy has scored in a Kolkata Derby but he has made Bengal proud."