I-League
I-League 2017: High time Chennai City, Minerva Punjab & Shillong Lajong pulled their socks up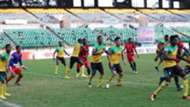 When it was announced midway through December 2016 that Chennai City and Minerva Punjab were given direct entry into the I-League, following the infamous pull out of the Goan clubs from the nation's top tier league, it was expected that the newcomers would struggle to find an equal footing with the rest of the clubs. 
Any hopes of a surprise 'Royal Wahingdoh-like debut' were quickly extinguished as both Chennai City and Minerva Punjab served up a dull, dystopian brand of football on the opening weekend in Chennai. While that could have been put down to the lack of adequate time and facilities they were granted to put together a well-oiled team, the results in the following two rounds have left nothing to the imagination. 
It could be argued that Chennai City held on valiantly in Bengaluru until the 77th minute when Roby Norales broke through their defiance. But the fact is that The Yellow and Blacks were clinging on to dear life for most parts of the tie, never offering any sort of threat to the Bengaluru defence. Their latest defeat against DSK Shivajians, another 2-0 defeat, did not highlight their defensive frailties as much as it did their attacking ineptness.
Brazilian strikers Charles de Souza and Marcos Tank are yet to click properly while Malsawmfela did not do much when he was given a start against DSK Shivajians.
The same could be said about Minerva Punjab, who were beaten by a late goal in Aizawl before they were spanked 4-0 by Mohun Bagan. Manandeep Singh and Joel Sunday have failed to add teeth to their attack so far while Victor Amobi has often toiled without reward. 
I-League Team of the Week: Round 3
Both Chennai City and Minerva Punjab are yet to score their first goals in the I-League and they are at the risk of finishing with a deplorable single-digit points tally. If the newcomers are aiming to be competitive, they need to find goals. Both teams are placed above Shillong Lajong and Churchill Brothers on the table for now, thanks to the point they gained when they played each other. 
If there is no massive improvement in the near future, things could go further south. 
The same could be said about Churchill Brothers and Shillong Lajong as well. While Churchill have looked competitive at times, especially against Mumbai FC in the second half, they are yet to gain a point from 3 matches. But with their head coach Joseph Afusi and several other key signings set to join the team after various issues, The Red Machines can have a positive outlook going into the future game. 
Shillong Lajong, though, have leaked in 7 goals already in 3 matches and have struggled to score goals as well. The only goal they did score came courtesy of a Yuta Kinowaki penalty. It's still early stages in the league but last season's 6th-placed team need to wake up before they find themselves in a relegation battle.
As such, Minerva Punjab's away fixture against Shillong Lajong this weekend assumes significance to both teams. Chennai City, though, have their task cut out against a well-drilled Mohun Bagan. Coach Robin Charles Raja stressed in Pune that he wants his team playing a possession-based team but we are yet to see that vision come to fruition.
His vision will be put to severe test by Sanjoy Sen's side and the former Tamil Nadu state coach needs to come out with flying colours or risk see his side become cannon fodder for the bigger teams.