I-League
I-League 2017: East Bengal's Trevor Morgan - 'It seemed ten random people off the street were playing for East Bengal today'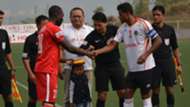 East Bengal's nine-match unbeaten streak finally snapped when they visited Aizawl as the home side rode on Laldanmawia's second-half goal to record a memorable victory.

The Red and Gold brigade's head coach, Trevor Morgan, however, did not take this as a surprise based on how his side performed on the field. 

"It's a surprise result for a lot of people but not by how we played today. The best team won," he opined.

Messi, Ronaldo are Low's benchmarks

On making as many as four changes to the side, especially having dropped local Mizoram lad Lalrindika Ralte to the bench, Morgan said the winger was being rested but he was forced to bring him on after a sordid first half display in Aizawl.

"We made the changes because the performance the other night, some of the players looked tired and Ralte was one of the players. So the best thing was to give him rest and I did not want to bring him in but was forced to seeing how we played in the first half," he remarked.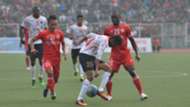 East Bengal still remain on top of the table despite the defeat, but
Mohun Bagan
who are tied on points with them have a game in hand.
The Englishman though felt that it was still an open league and a lot of teams were capable of winning it while opining that his side needed six or seven wins out of eight remaining games to clinch their first ever
I-League
title.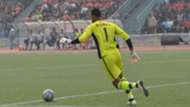 "At the moment, it's anybody's league. Still eight games to go, twenty-four points, definitely need six, seven wins from that if we are to win the league," he reckoned.
Alves: Barcelona have no idea how to treat players
The players came in for harsh criticism from the gaffer who said they looked clueless in the first half in spite of practising the system and compared their display akin to ten random people donning the jersey from the street.
"We prepared for the new system for two days but today it seemed we got 10 people off the street, gave them a shirt and asked them to go play for us. There was no organization, nothing," he fumed.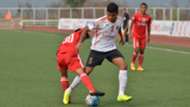 The former Dempo coach concluded by saying that Aizawl were deserved winners and did not nitpick on the referee's decisions.
"We didn't create anything. Aizawl deserved it. They were better than us today," he signed off.