East Bengal
I-League 2017: East Bengal squad analysis - Kolkata giants desperate for elusive trophy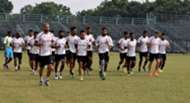 ---

---
The I-League 2017/18 kicks off in four days and as 10 teams prepare for a new season of football extravaganza, Goal takes a look at the strengths and weaknesses of each team in their hunt for the trophy.
Here, we analyse the squad of Kolkata giants East Bengal. The Red and Golds have appointed Khalid Jamil, who led Aizawl FC to the I-League title last season, at the helm of affairs this season in order to bring home the title which has eluded them for 14 seasons!
East Bengal's squad in full: 
Goalkeepers: Luis Barreto, Mirshad Michu, Dibyendu Sarkar.
Defenders: Salam Ranjan Singh, Samad Ali Mullick, Mehtab Singh, Gurwinder Singh, Arnab Mondal, Eduardo Ferreira, Lalramchullova, Tanmoy Ghosh, Rahul Ghosh, Deepak Kumar, Koushik Sarkar.
Midfielders: Cavin Lobo, Richard Costa, Mohammed Rafique, Armand Bazzou, Mahmoud Al Amna, Katsumi Yusa, Laldanmawia Ralte, Brandon Vanlalremdika, Surabuddin Mullick, Gabriel Fernandes, Yami Longvah, Nikhil Poojary.
Forwards: Willis Plaza, Charles D'Souza, VP Suhair, Joby Justin, T Suranjit Singh, Vidyasagar Singh.
---
Strengths
---
East Bengal, on paper, have the strongest midfield in the league this season. They have three foreign recruits in this area which includes names like Katsumi Yusa and Mahmoud Al Amna. Katsumi has been a proven warrior for the Red and Golds' arch-rivals Mohun Bagan in the last four seasons.
He can play anywhere in midfield and holds the capacity of controlling a game. He has good speed which can be utilised on the flanks as and when required by coach Khalid and he can also operate right behind the striker as a perfect number 10. The East Bengal coach has experimented with the Japanese midfielder's position during the pre-season but it is likely that Yusa would behind a lone striker.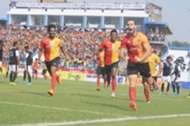 Another vital cog in East Bengal's midfield is, of course, Mahmoud Al Amna who had worked under Khalid Jamil last season at Aizawl FC and was a key player in their squad. Al Amna has been impressive in a Red and Gold shirt so far in the season. He was instrumental in guiding East Bengal to the Calcutta Football League (CFL) win recently.
Another very strong aspect of this East Bengal side is their Indian recruits. As we know the creme de la crème of Indian football have joined the cash-rich Indian Super League (ISL) this season which means only the second best lot were left for the I-League. Among that batch, the Red and Golds can boast of recruiting the best names. The likes of Arnab Mondal, Salam Ranjan Singh, Mohammed Rafique, Laldanmawia Ralte and Brandon Vanlalremdika add great strength to Khalid Jamil's side.
---
Weaknesses
---
If their midfield is East Bengal's biggest strength then their strike force is bit of a problem. In the beginning of the season, Jamil himself re-signed Trinidad and Tobago international Willis Plaza, who did not have an impressive outing with the Kolkata giants last season.
Plaza started off his campaign on a high last season but as the season progressed his performance graph took a major dip. He missed vital chances in crucial matches which clearly affected the club's performance. Even after a dreadful end to his season, Plaza was called back by Jamil who had full faith in his abilities.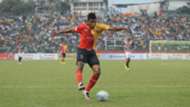 The Trinidad international's second innings in red and gold jersey did not start in a manner one would hope as he failed to impress the fans during the CFL. It was only until the last of couple of matches that the striker brought the best in him and honoured his coach's faith. The coach may have full faith in the striker's ability, but he needs to prove it over the length of a full season. 
The other foreign striker for East Bengal is former Chennai City FC striker Charles D'Souza. The Brazilian had a decent outing with the South Indian side last season. He scored nine goals in total for the club in I-League and Federation Cup. Even though Charles' stats speak a lot about his goal scoring ability, it is known fact that players take time to adjust to Kolkata's football atmosphere. Overall, the strike force is a cause of worry ahead of the I-League season.
---
Opportunities
---
Mehtab Singh is a promising young midfielder in the East Bengal squad who has a chance to blossom under the tutelage of Khalid Jamil this season. A player who came up through the ranks in the club, Singh was included in the senior squad last season but he didn't make his senior debut. It was Khalid Jamil who handed him his debut this season in the CFL. Mehtab has done a fairly decent job at the heart of the defence and is likely to get game time in the I-League this season.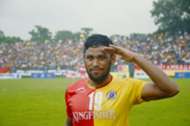 Striker VP Suhair is an important part of the East Bengal squad this season. The 25-year-old Kerala born forward had signed for the Red and Golds last season but did not play a single minute. He too made his debut under Khalid Jamil in the CFL and scored a hat-trick in his very first appearance. Suhair was the club's main man up front in the CFL until he received a knock and was ruled out for the later part of the tournament. In the I-League, Jamil will be banking on the ability of the Indian forward and hopefully he will make good use of the opportunities he gets. 
---
The Danger Man
---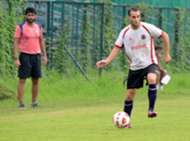 Syrian midfield marshal Mahmoud Al Amna is undoubtedly the most important player in East Bengal this season. He had played a crucial role in Aizawl FC's title-winning campaign last season. Amna's first assignment with East Bengal was the Calcutta Football League (CFL) and he did a fine job to guide his team to a record 39th CFL title. The midfield lynchpin had scored four goals in the tournament and was the team's leader on the pitch. 
He is a workhorse who takes a lot of load at the centre of the pitch. He creates chances, he scores goals and also tracks back to help the defenders when needed. Coach Khalid Jamil will shape his team around Al Amna this season and hope to bring home the long awaited I-League trophy.