I-League
I-League 2017-18: Shillong Lajong's Bobby Nongbet - Have to be careful of Minerva's Chencho Gyeltshen
With inputs from Godwin A Kharpani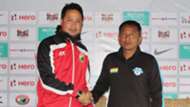 To the astonishment of many, Minerva Punjab FC lead the 2017-18 I-League charts and now face fourth placed Shillong Lajong at the Jawaharlal Nehru Stadium on Sunday.

Bobby Nongbet believes that his team have the upper hand going into the tie as Minerva will find it difficult to adjust to the weather conditions.
"We will definitely be happy to get three points and that too home. We will play more attacking tomorrow (Sunday). It will be difficult for Minerva as they come from Punjab and come to a place that is cold. It is good for us. We played well against Arrows and I believe we will win the game."

He acknowledged the threat of Chencho Gyeltshen, the Bhutanese forward who scored a couple of goals against Mohun Bagan in their last match.

"Minerva is playing consistently well and they are very good as a team. Chencho and William (Opoku) are performing very well for them. We have to be careful of Chencho. There is (a plan to contain Chencho), you'll see tomorrow," he quipped.

"We need to improve in scoring but we have been unlucky - spectacular saves and hitting the crossbar has turned results the other way. We have worked things out very well and hopefully tomorrow we will overcome those setbacks," he added.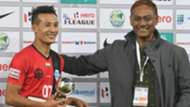 Meanwhile, Minerva Punjab FC's Khogen Singh wants to keep the winning momentum going. "The team's morale is high. We will try to keep this morale high and it is the same before each and every match. It will be tough. Lajong is one of the better teams from the north-east. They have maintained the performance for the last few years. The match will be very tight. There is already a plan to give them a fight."
With temperatures going into the single-digits, Khogen Singh stressed upon adapting to the conditions. "There is a topographical change and the ground conditions (artificial turf) will also be a change for us but we have to adjust to these things."
Goalkeeper Rakshit Dagar, who pulled off a massive shift in Kolkata midweek against Mohun Bagan said, "It is always difficult in an away game no matter which the team is. We have to stay compact and fight as we have shown against Mohun Bagan. We cannot take any team lightly because I don't find much of a difference between our side and Lajong; both being very young teams, good clubs and the same philosophy to develop youngsters," he concluded.