I-League
I-League 2017-18: East Bengal offer two-day trial to former Mohun Bagan striker Ansumana Kromah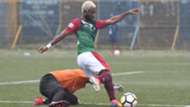 In a move that will surprise many in Kolkata, former Mohun Bagan striker Ansumana Kromah met officials of East Bengal on Thursday and is all set to be offered a trial at the club.
East Bengal are facing a shortage in numbers in attack with star playmaker Mahmoud Al Amna ruled out for at least two weeks due to an injury. Another striker, Willis Plaza, was recently released from the club and is set to join Mohameddan Sporting Club.
Liberian forward Kromah was released from his Mohun Bagan contract after the clash against Minerva Punjab FC. He had been suffering from a groin injury and that had been one of the major factors in his departure from the Kolkata giants.
This dearth in attacking numbers has seen the club turn to free-agent Kromah and the forward met with East Bengal officials at their headquarters on Thursday afternoon.
Kromah, has been offered a two-day trial with Mohun Bagan's fierce rivals. The trial is expected to take place on January 27 and 28.
East Bengal coach Khalid Jamil and Monoronjan Bhhatacharya will take a final call on Kromah upon the completion of his trial.
The two sides had only last week met each other in a fierce Kolkata derby in which Mohun Bagan had prevailed by 2-0.