I-League
I-League 2017-18: Paulo Menezes delighted with Aizawl performance as Soundarajan laments lack of foreign players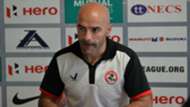 Aizawl FC bounced back from defeat against Mohun Bagan with a 2-0 victory over Chennai City at home and coach Paulo Menezes was unsurprisingly delighted with the three points.
"I am very happy not just because of the result but due to the performance which was very good. We scored two first-half goals and after that we controlled the game," he said at the post-match press conference on Saturday.
Asked if there was scope of improvement in the performances of the defending I-League champions, Menezes said that it was a continuous process.
"Of course, we have lots of spaces to improve. It is like a cycle which never stops. They can improve and I can improve," he stated.
With an AFC Champions League qualifier coming up for the outfit, Menezes said that it will be a big challenge for the club and the fans alike.
"I always go by game-by-game. AFC Champions League will be a big challenge for the club since it is our first time. It is also a big challenge for the players, fans and India," the Aizawl tactician explained.
With Kolkata giants and league leaders East Bengal being their next opponents in the I-League, Menezes said that Aizawl will look to play with no fear in front of their home crowd.
"They (East Bengal) are in a good position. They have won more games. They have very good players and have a good team. But we are ready to beat them like we did today and against Minerva here. Let us compete to fight for the three points against them, we are at home and we are the champions," he stressed.
His counterpart V.Soundarajan said that it was one of the worst defensive performances by his side in their 2017-18 campaign.
"Yes, we played one of our worst games of the season at the back today. The team is not up to the mark, I do not know the reason because suddenly the goalkeeper had a groin pain. The second goalkeeper is not up to the mark," the Chennai City tactician stated.
"Midfield is not functioning. I felt we missed one more foreign player from the last match – Murilo Almeida. He could have made a huge difference today because our players found it tough to get moving," he added.
Soundarajan said that he was in discussion with the Chennai City management to recruit more foreign players before their next game.
"I have already talked to the management to buy more foreign players. Maybe we will have more in the next match," he said before signing off.