Premier League
'I follow my own path' - Ake reveals Drogba advice not the reason he signed for Chelsea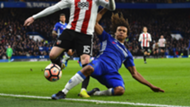 Nathan Ake revealed Didier Drogba personally advised him to join Chelsea but that he had made the decision on his own, stating he does not have any heroes in football.
Is there a better centre back in the world than David Luiz?
The defender, back at the club after returning early from his loan at Bournemouth, has been on the books of Chelsea since 2012.
Ake joined the Blues after impressing for Feyenoord's youth team in the Willem II youth tournament, the London outfit making him the offer to join them shortly after.
And the 21-year-old recalls a conversation with Drogba as he arrived at Cobham for talks and recounted the striker's words to convince him - even if he adds that he is not one for following others.
"He [Drogba] was training outside,' Ake told the Daily Mail. "We saw him and he came over to say hello. My dad is a shy person but he was more shy than usual.
"Drogba just said: 'If you want to win trophies and be at a big club then join us'.
"I'm not really one for following other people. I never really had heroes. I play my own game. I like to take chances. This was what I wanted. I know it's not easy at a big club like this."
Icardi is a goal and assists machine
Ake also states that he often has been mistaken for legendary compatriot and Chelsea icon Ruud Gullit's son, discussing his distinctive dreadlocked hairstyle and admitting that representing Netherlands internationally is his dream.
"Everywhere I go people will say: 'Hey look, it's Gullit's son'," he continued. "Of course, he is a big character in Holland but not really a player I watched. I'm too young.
"I've had my hair like this since I was about 12. First it was shorter and my dad used to do it for me every morning. Then it was my first tournament away in another country and he couldn't be there. And he made me dreads so I didn't have to do anything with it.'
Fabregas has become an unstoppable weapon
"He said he'd been watching me and thought I'd done well and hopefully I can maybe make it into the national team as well,' said Ake, a Dutch Under 21 international.
"There has been some interest from the Ivory Coast but I want to try and progress with Holland. It would be a dream to play for Holland. Hopefully they're watching."