Claudio Bravo
'I feel sorry for Bravo' - Courtois sees pressure weighing on Man City goalkeeper
Chelsea goalkeeper Thibaut Courtois admits to feeling "sorry" for Manchester City counterpart Claudio Bravo as he struggles to get to grips with life in the Premier League.
The Chilean is not the first to endure a testing time, with others encountering similar problems this season.
Pep: Bravo had more pressure at Barca
Manchester United's David de Gea was not held in the same regard as he is presently after stumbling his way through a tough few months following a big-money move to Old Trafford.
Loris Karius is experiencing something similar at Liverpool, although Bravo has taken his fair share of criticism.
Pep Guardiola snapped him up from Barcelona to add a ball-playing keeper to his ranks, as Joe Hart was ushered towards the exit, joining Torino on loan, but the 33-year-old has failed to convince with his feet and hands.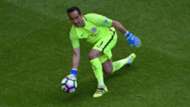 "I feel sorry for Bravo, because he's been a very good goalkeeper for Barcelona and Chile, but he's under pressure a lot and is lacking confidence," Courtois told The Times.
"You get to a point where you feel every shot will be a goal. Last season when I was conceding lots of goals it started eating me up.
James: Criticism of Bravo is unfair
"It's good to have a goalkeeper that's good with his feet, but it's more important that he's good with his hands and makes saves.
"We play from the back as well, but when I see there's pressure I will play a long ball to [Marcos] Alonso, [Victor] Moses or Diego [Costa]. City will always try to play, even when they're under pressure, which is very risky."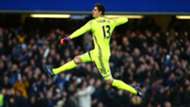 Courtois has been asked to alter his game this season under Antonio Conte, but the Belgian has responded positively and now boasts 13 Premier League clean sheets.
He added: "I'm playing as an outfield player too now, which is great.
'Madrid should move for Courtois'
"At Atletico Madrid my job was just to hit long balls forward, but here we play out from the back more so it's important to practise my ball skills.
"It started last year when I was injured. I couldn't dive properly during my rehab so did a lot of work on my feet as well. And when I was suspended after the red card at Man City I joined in with the team and worked a lot on ball possession in midfield, which was really good.
"I'm often the spare man switching sides - the neutral guy - so have to be quick and alert. My skills have improved a lot. I play in midfield, left back, as a striker. I've scored a lot of goals in training, but not in a match yet!"