African All Stars
Huddersfield Town striker Steve Mounie reveals 2018-19 goal target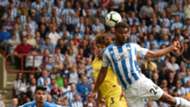 Steve Mounie has no goal target for the 2018-19 season, but wants to score 'as many goals as possible to help' Huddersfield Town.
Luck denied the former Montpellier striker from opening his season account against Chelsea as they went ahead to lose 3-0 to Maurizio Sarri's men.
However, Mounie, scorer of nine to become the Terriers' most potent attacking outlet last term, has said all he aims for is to help his side.
"I nearly scored but the post wasn't on my side," Mounie was quoted as saying by Huddersfield Examiner.
"I hope I will score more goals in the next few games.
"I don't have a target. I just try to score as many goals as possible to help the team."
Although Huddersfield were brushed aside by Chelsea, Mounie believes they did well in the first half, but the gulf in quality between made the difference.
"I think we performed well in the first half, but we know when you face a team like Chelsea they are very clinical. You have to take your chances," he added.
"However we have to keep working, and keep going. It's only the first game and it was against a big opponent. Now we have to work again for next week.
"We know that this was only the first game and that there is a long way to go and it will be tough.
"Even though I didn't score against Chelsea, if I go on to score 15 goals it should be ok.
"Nothing is easy, and it's never easy just to put away a loss. I am a competitor even if it is against a big team I like to win, or at least get a draw.
"We have to find out what was wrong in this game (against Chelsea), what led to the goals, and why we lost the game."
On the club's 2018-19 aim, he said: "The aim is to stay in the Premier League, we don't expect anything else, the only thing is to stay in the Premier League for a third year.
"We know that this season will be tougher than the last, everyone knows that," he concluded.