Manchester City
How the Etihad has become like Old Trafford was under Sir Alex Ferguson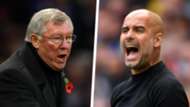 "Even when I was playing for Manchester United, you thought you had teams beaten in the tunnel," Mark Hughes once said.
Under Sir Alex Ferguson there was a very real sense that opposition teams regarded games against Manchester United at Old Trafford as a lost cause before they had even set foot on the pitch. It was often a case of damage limitation. Don't embarrass yourselves and go home.
Hughes had actually left United in 1995, highlighting for just how long Old Trafford was that impenetrable fortress. Ferguson's teams went on winning trophies for the best part of two decades after Hughes' exit, that history of success only adding to the aura.
Ferguson's record for consecutive home wins at United is 19, set between October 2010 and October 2011. In fact, going back to 2009 United had lost just once in 34 home league games. There was a similar run of one defeat in 45 games between December 1998 and May 2001, and another of one defeat in 44 games between November 1992 and December 1994 - in the last 12 of those wins United didn't concede a single goal.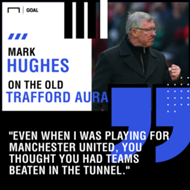 The numbers help paint a picture of how things were, but the feeling of inevitability is what has really stood the test of time. United games at Old Trafford under Ferguson were seen at the time and remembered now as an absolute gimme; you could put them in your accumulator, captain their players in Fantasy Football. It was a done deal.
The most dominant Premier League sides, of course, have been built upon formidable home form, and Highbury was a similarly daunting place to go during Arsenal's best periods under Arsene Wenger; they suffered one home league defeat in 41 games between December 1997 and December 2000, and one defeat in 46 between May 2003 and December 2005.
Chelsea completely dominated the Premier League between 2004 and 2006 and their record at Stamford Bridge reflects just how fearsome they were; they went 86 games unbeaten at Stamford Bridge between March 2004 (just before Jose Mourinho took over) and October 2008 (just after he left). They also kick-started another impressive run just after that; they lost just once in 36 home games between December 2008 and November 2010.
Manchester City actually boast the record for most home Premier League wins in a row, with 19 between March 2011 and March 2012, a run that covered much of their first title-winning season under Roberto Mancini.
And now, under Pep Guardiola, games against City at the Etihad are becoming just like they were against United at Old Trafford under Ferguson, Chelsea under Mourinho at Stamford Bridge, or Arsenal at Highbury under Wenger.
Since losing to Chelsea in Guardiola's first season in charge, City have lost just once in 37 league games at the Etihad, drawing only six (with just one of those draws coming in the last year).
In this period they have scored 110 goals, an average of 2.97 per game. The run also features 14 consecutive home wins.
Hughes best summed up the attitude at Old Trafford in the 1990s and he recently shed some light on how the opposition view trips to the east of Manchester these days.
The Welshman, currently in charge of Southampton, paints a bleak picture.
"You can go to Man City and sometimes if you get too close to them they can get a little bit angry with you and go off the leash," he said ahead of last Sunday's game at the Etihad. "I went there with Stoke and scored twice against them and it made them angry and we ended up getting beat 7-2. That's what happens.
"You have got to go there with the attitude we have worked well, our training has been good, we are in a confident frame of mind in terms of our defensive work, so let's use that and see where it takes us."
Guardiola would jump down your throat for suggesting City's games have become easy, given the amount of work on the training ground that has gone into their performances, but they certainly do make it look that way.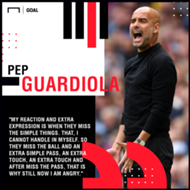 A 3-0 win against Fulham in September was as straightforward as they come, a result that evoked memories of how Ferguson's United would seemingly stroll to comfortable victories even when in first gear. Fulham barely laid a glove on City but Guardiola stressed afterwards that he was "angry" with his side's performance, accusing them of taking their foot off the gas.
In recent weeks City have hit five against Burnley and six against Southampton, after which Guardiola insisted his team showed him they were still "not stable."
In their six home games this season they have had 57 shots on target and allowed just 13 shots on their goal, conceding three times.
If that is not quite good enough for the Catalan, if the standards are so high, you could forgive the opposition for being happy just to get out of the ground as quickly as possible.
The one home game City have lost in the last 23 months was against United, of course, on an afternoon when they let a two-goal lead slip.
They welcome their city rivals once again on Sunday, their recent form suggesting that they are ready to make amends for the one blemish on their recent record. Guardiola is yet to beat United at home, however, despite his impressive record at Old Trafford, and with Mourinho's men showing something of a defiant streak in recent weeks City cannot afford to repeat the mistakes they made back in April. 
Should they lose, they are bound to bounce back with another long run of daunting results regardless. If they win, that aura of invincibility will only grow.